Buying the World's Worst Diamonds
February 25, 21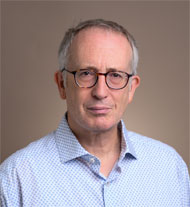 Cormac Kinney is in the market for cheap diamonds. The cheaper the better. And he doesn't care what they look like. He's not buying them for their beauty, he's buying them to be traded as a commodity. His approach to diamond buying is the "polar opposite" of almost everyone else in the market. He doesn't see the gems, he doesn't even know what price he's paying. His only concern is that his automated system will buy the natural, polished diamonds he needs across a range of sizes, colors and clarities so they can be packaged into collections of exactly the same value. "We're paying the cheapest price for the worst diamonds," he says, as long as they fit the criteria.
They'll be sealed into clear, plastic "coins", typically containing eight to 10 stones with a combined weight of three to four carats, and each with an initial value of $5,000. The number of stones and carat weight will be determined by the market and the actual price will fluctuate daily. Every coin must contain exactly the same geological scarcity of the stones, though their dollar value may not be the same. That's the key to creating a fungible diamond product, says Kinney, CEO and founder of New York-based Diamond Standard.
It is currently selling $25m of the coins in the commodity IPO, and has set up its own online exchange to buy the stones it needs from a range of almost 100 sellers, including De Beers Sight holders. "We buy sight unseen," says Kinney. "Our computer automatically buys the least expensive diamonds across a statistically valid sample. We don't even know the price. We are literally buying the certificate. Every diamond over $750 per carat must be GIA graded before purchase and all others can be GIA or IGI graded after purchase, but must achieve the grade that the vendor promised.
"Our computer automatically buys the least expensive diamonds that form a statistically valid sample. We don't pre-determine the price. We don't care how it looks as long as it meets the GIA grade. If we buy a 0.47-carat VVS1 you can bet it's the world's worst. And we want it because we are establishing the 'least cost to deliver'."
Diamond Standard bids electronically through its Diamond Standard Exchange to buy a statistical samples of all qualities of natural, polished diamonds - D to L color, flawless to SI2 clarity, VG to EX make — across a size range from 0.23-carats to 0.74-carats, any fluorescence. Next week the company will begin buying 65,000 diamonds that will be sorted into equal value sets by an optimization system, to be assembled into coins by the IGI labs and delivered to the investors. Diamond Standard Exchange takes a 3.5 per cent fee.
"The way we buy is the polar opposite of a jeweler," says Kinney, a serial fintech entrepreneur. "Within a tight color and clarity range, they want to buy the most brilliant stone for the money and are selective. Within the entire range of color and clarity, we want to buy the cheapest stones that meet the grading requirement, globally and automatically. The process must be a transparent and repeatable 'price discovery'. Every precious metal in the world is traded this way, with market making and a centralized limit order book."
Diamonds have never been an attractive proposition for investors, largely because no two stones are the same. They can't be melted into bars like gold or other precious metals, so 99 per cent of them are made into jewelry. But creating a new market for diamonds - any diamonds - opens up interesting opportunities. There's suddenly a demand for "hard to sell" gems, which may be less than beautiful, but which fit the requirements in terms of their specification. Diamond Standard doesn't buy from the public, but it's not a big leap for an entrepreneur to source their unwanted stones and set themselves up as a supplier. Much depends, of course on the willingness of individual and institutional investors to embrace diamonds as a new opportunity. But if they do, then newly-mined supplies of stones may not satisfy demand and we may find there's a burgeoning new market in recycled diamonds.
Have a fabulous weekend.