The Butterfly and the Blue Diamond
February 03, 22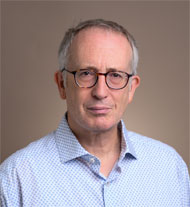 It was the American mathematician and meteorologist Edward Lorenz who coined the term "butterfly effect" in 1972. He used it to explain
how something very small - a distant butterfly flapping its wings - could have a disproportionate impact on something very big - like a devastating tornado several weeks later. It may sound far-fetched, but the idea remains well-respected in scientific fields, and the term is now widely used in the broader context of any situation where a relatively small incident has unimaginably huge consequences. Like the Blue Diamond Affair.
In 1989 a Thai janitor working at a royal palace in Saudi Arabia stole a stash of diamonds and other jewels which were valued at the time at $20m. Notable among the treasures was a 50-carat blue diamond, described as priceless. The thief, Kriangkrai Techamong, was later apprehended and jailed. He claimed he had no idea how valuable the gems really were. He was a small-time opportunist thief. But the consequences of his theft - like Lorenz's butterfly flapping its wings - were vast.
Three Saudi diplomats who went to find the gems were murdered, a Saudi businessman on a similar mission remains missing, presumed dead. Diplomatic ties were broken, ambassadors recalled, flights between the two countries ceased, work visas for hundreds of thousands of Thais working in the kingdom were cancelled and Thailand lost billions of dollars in trade and tourism revenue. That's some measure of the resulting tornado.
The "small-time thief" Techamong, who plundered a safe in the palace of Prince Faisal bin Fahd, shipped the treasure back to Thailand, but struggled to find a buyer and ended up selling the gems for a pittance. Thai police arrested him and returned a consignment of stones to the Saudis, who promptly claimed half of them were fake and most were still missing. There was no sign of the 50-carat blue among them. In Thailand there were rumours that officers had helped themselves to the real gems, as gifts for their wives and girlfriends.
Techamong, whose actions triggered the whole sorry saga, served three years of a seven-year sentence and has apparently now found inner peace, having been ordained as a Buddhist monk. But it's only now, 33 years later, that Saudi Arabia and Thailand have finally begun to patch things up and agree on at least an outward form of peace. The Thai Prime Minister Prayut Chan-o-cha visited Saudi crown prince Mohammed bin Salman last week and they issued a joint statement pledging to re-establish mutual confidence and friendly relations. The Thai PM expressed "sincere regret" - as his country's labor and tourism sectors began rubbing their hands. The storm may be over but the wounds may yet take many more decades to heal. And the big blue diamond has yet to be found.
Have a fabulous weekend.