Catching Up
September 12, 19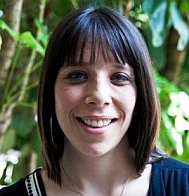 Yup. You're not seeing things. That's me in the photo. A slightly younger and a very much less tired me (because...kids) but it's me alright.
It's been quite a while since I last wrote an IDEX Online memo. Looking back to when I was last writing here regularly, the main subjects I tended to cover, or in fact, obsess over, were - in no particular order - marketing, Millennials and lab-grown diamonds.
Three or so years later, so much has changed in the industry and the world - and so much hasn't.
There are so many new ways of doing business that didn't exist just a few years ago. For example, if anyone wants to hit me up about chatbots, drop me a line - it's my new passion. Millennials are quickly being caught up by Gen Z - who have a totally different way of interacting with brands and businesses than anyone who has gone before them, which means the industry has to once again figure out how to bring its enduring product to another generation.
As for lab-grown diamonds... It seems that not much has really changed. They are still front and center, but mostly from a "how to detect 'em" perspective rather than "they're here so how can we make the best of it?"
I know what my opinion is - and it hasn't changed in the past few years. There's a clear space for lab-grown diamonds as long as consumers are fully informed about what they are buying and are not misled or misinformed in any way.
I also know there's a lot of arguments to be made about prices, environmental impact (on both sides), business, natural versus not, storytelling and foreverness.
I'm sure I'll be getting into these points down the line, but not today.
Today I'm just dreaming of a pink diamond. And I have been for years, ever since I was first privileged to experience the Argyle Pink Diamond Tender in London back in 2006.
The reality is that with Rio Tinto's Argyle diamond mine in Western Australia due to stop production next year, there's going to be a lot of demand for pink diamonds and almost no supply.
At the time, I wrote that, "in a few years, the high prices commanded by pink diamonds today may seem a real bargain." How prescient of me and oh how I wish I had had extra funds back then..
While buying an Argyle pink was never in my budget, these days? Fuggedaboutit. So a 1 carat pink diamond from a source such as Lightbox Jewelry seems like a great option. I'd particularly like a pair of the $1,000 solitaire studs (my birthday is in May in case anyone's struggling with what to buy me).
Joking aside, I know that talking about lab-grown diamonds, marketing, generic promotions and a host of other topics that we wish would just go away isn't easy. But we have to keep talking about things. We have to keep having discussion and debate to move forward and I look forward to using this space to do that.
But this shouldn't be a one-sided conversation. I'd love for people to set me straight about what I've missed and what I must know. I've changed a lot in the past three years and I hope to discover ways the industry has done the same.
I'll leave off by saying it great to be back.
Please reach out to me to connect or reconnect. I can't wait to hear from you.
Have a fabulous weekend.