In Gloomy Days: A Silver Cloud in Dubai
October 16, 08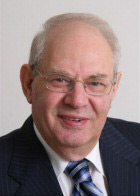 Governments have committed hundreds of billions of dollars to stabilize the world's financial systems. A back of the envelope exercise shows that the commitments have passed the trillion dollar level and that is still an insignificant figure compared to the trillions that have been vaporized by falling stock prices and bank write-offs. So far, none of the commitments have really succeeded in restoring confidence. The IMF, OECD and other similar sorts of institutions stress that we are heading for a prolonged economic downturn. Retail sales are plummeting in the U.S. and Europe, and national growth projections are being adjusted downwards all over the globe.
The diamond industry is doing its utmost to get optimistic 'diamonds mean value' messages out, but trade confidence is low.
Conspicuous consumption is always the first to be hit and the very last to recover when consumers have no excess personal disposable income. Some diamantaires believe that the best thing to do now is sell polished at any price and refrain from buying rough, fearing that the rough will be 30 percent lower six months down the road. That scenario may not happen – it depends on our behavior. Others believe this is the time to spend billions on creating funds that will mop up excess goods from the market, trusting that this will turn out to be the best investment in the long term.
Quite a few players try to analyze and understand the global picture. Diamond sales in the United States, which consumes half of the worldwide polished output, have been sluggish throughout the present decade, recording little growth, especially in comparison to other luxury goods. Might it be that the diamond business in the U.S. has, after steady growth since World War II, reached a maturation phase in the product lifecycle? Is this the time to look optimistically forward, putting all efforts into the development of other emerging diamond markets? If you look at some of the OECD projections, then China's GDP will quadruple by 2020 and by 2030 it will be the world's largest economy.
Let's just look at the immediate future. The IMF expects that, on an average annual basis, global growth will slow from 5 percent in 2007 to 3.9 percent in 2008 and 3 percent in 2009, its slowest pace since 2002. The major advanced economies would be in, or close to recession in the second half of 2008 and early 2009, and the anticipated recovery later in 2009 will be exceptionally gradual by past standards. Growth in most emerging and developing economies would decelerate below trend. China, however, will still outperform any other country in terms of pace of growth. In 2009, China will still be growing at a healthy 9.7 percent level, hitting a one digit figure for the first time in some thirty years. By 2010, China's growth will once again be back above 10 percent. According to OECD figures, China will be the fastest growing major economy in the world, followed by India.
To most of us in the diamond industry, myself included, China remains very much an enigma. Data from McKinsey consultants and others show that Asia is consuming more than half of the world's luxury brands. Diamond jewelry retailing is still in its infancy. China itself accounts for 18 percent of global luxury consumption, a figure that is expected to rise to 29 percent by 2015.
In diamond manufacturing, China is unquestionably the preferred choice for efficient quality cutting, but it might well become the preferred consumer market as well. Though many of us recognize the potential of China and surrounding Asian countries, we have yet to make the concerted efforts in terms of marketing that we are making in the traditional diamond markets. The exception may be De Beers, which has concentrated its ForeverMark brand pilot programs mostly around Hong Kong.
Shift to China and the Middle East
Lately, several industry conferences have either been cancelled or postponed. The industry isn't particularly in the mood. Then, on rather short notice, Dubai's Multi Commodities Centre (DMCC) called for an urgent Middle East China Diamond & Jewelry Summit (MECDJS), investing fortunes in ensuring that some 350 Chinese and other Asian diamond and jewelry buyers will come to Dubai to explore the development of mutual business ties. The program focuses on real business opportunities between two important regions of the world. It will be a meeting of a specific targeted group of top traders from China, Hong Kong and the Middle East who explore opportunities together.
The DMCC's Peter Meeus tried to explain to me that the format is different from the usual diamond conference. "No more generic conferences by other diamond centers in Antwerp, India and Israel, but a meeting of a specific targeted group of top traders from China, Hong Kong and the Middle East world who explore opportunities together. Discussion focus points will be chosen to find ways to create valuable partnerships between the two regions, instead of generic discussion points about the industry as a whole. There will be open and closed sessions only for participants." The open session is built around strong brands in the jewelry industry who have built successful businesses in the Middle East. The participants–only session will focus on the leading retail chains in China, Hong Kong and the Middle East, with participation of the corporate principals.
The significance is in the timing – November 8-9, 2008. Well over 400 participants have already registered and there is anticipation that some 600-700 trade people will attend. There is great interest from countries such as Turkey and Saudi Arabia. At a time when industry is in a most gloomy mood, Dubai is taking a forward-looking road and trying to match willing buyers and sellers of our diamond product. Some of us would have preferred this kind of meeting to have taken place in Antwerp, New York or Tel Aviv, but the fact is, only Dubai seems to be able to pull it off. Outside of Asia itself, I have never seen an occasion where almost 100 Asian buyers – and the emphasis is on buying – came to one place to look for new suppliers.
The summit idea came about as a result of Dubai's ruler, Sheikh Mohammed bin Rashid Al Maktoum's last visit to the People's Republic of China, to advance the various business relationships between the Middle East and the Peoples Republic of China. According to the statistics of the Dubai Diamond Exchange (DDE), Dubai's total diamond trade (rough and polished) increased by 53 percent to reach $11.23 billion in 2007. In addition to this, the Chinese jewelry industry also recorded a growth of more than 11 percent to reach record sales of $26 billion in 2007. These numbers contain considerable double accounting (imports and re-exports), and are not pure diamond figures, but they nevertheless show that the UAE and China are both experiencing exponential growth - and are well-positioned to become new giants in the diamond jewelry trade.
The Chinese Diamond and Jewelry Market
Diamonds are still a minute part of jewelry sales. The official Chinese diamond jewelry retail market last year was $1.75 billion, though taxation has driven most sales to the parallel market and the true figure is probably closer to $4-5 billion. Any way one looks at it, it is the equivalent of 5-8 percent of U.S. diamond consumption. The domestic jewelry retail market has enjoyed an average annual growth rate of 15 percent since 2000. China's middle class (which is the diamond jewelry target group) counts some 250 million people, out of a total population of 1.3 billion. In other words, the U.S. and the Chinese target group are of similar size.
Some 70 Chinese participants at the Summit come from the Jewelry & Gems Emporium in Panyu, China which, together with the DMCC, has sets out plans to facilitate a greater cooperation between diamond and jewelry professionals in both regions. The jewelry industry in the Panyu area represent 400 companies, 70,000 workers and jewelry exports of $1.52 billion.
Dubai is playing a variety of roles in the diamond industry, some very successful and others controversial. Questions about sustainability of its diamond business have not yet been given a final answer. The DDE still fails to honor the reciprocity undertakings for access to bourses which was a pre-condition to Dubai's acceptance to the World Federation of Diamond Bourses (WFDB). Nevertheless, the diamond market is certainly taking off and local industry financing has exceeded the $500 million figure, reducing the burden on the traditional financing sources.
Dubai has something that few other centers have. As we do believe that in the next decade Asia may emerge as the world's most prominent diamond jewelry market, and that U.S. and Europe shares will be declining, Dubai is geographically well-positioned to become the gateway in both directions. The other thing it has is an absolutely unprecedented resolve to spend what needs to be spent to turn its vision into reality. One might shrug it off and say, "of course they have got oil money." That may be true, but rarely has so much money been applied to advance the trade.
The wealthy individuals in oil-producing countries are best-known for their preferred buyer status of unusual diamonds. To reach these, Dubai is also a natural gateway. Two phenomenal 102.11 carat and 70.87 carat stones which were cut from the 316.15 carat Ponahalo rough, were sold at Christie's to a Dubai trader for $4.1 million and $2.2 million, respectively.
Search for New Markets Imperative
I am not in the habit of pitching for conferences, or suggesting jumping on airplanes and saying 'check it out', but after the possible postponement of both the Antwerp Diamond Conference, and the IDMA Presidents Meeting in Botswana because of the turmoil in the market, I believe that those events which try to lead the diamond jewelry industry into new directions at this very gloomy point in the economic world ought to be recognized.
The Dubai people may understand something that we may yet have to grasp. When the current financial and economic crisis is over, there will be a new world in which the positions of markets may find themselves in quite different ranking orders. A banker recently remarked to me that we are not yet in phase III of the economic crisis. There is a belief that after phase 1 (sub-prime), and phase 2 (banking and insurance failures and bailouts), there will be a third phase next year with mega corporate failures. Only after that stage will business take off again. The Asian and Middle East consumer markets are not as much impacted by the global economic turmoil – and they definitely are the markets of the future. If the Dubai summit is successful, it will give added impetus to the belief that we should look at Asia with a greater degree of urgency than we have ever done before.
Have a nice weekend.