Just a Little Disruption
April 02, 15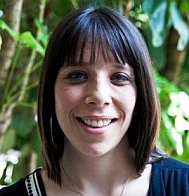 The news this week that diamond jewelry brand Hearts On Fire has teamed up with TBWA\Chiat\Day New York to create a new global advertising campaign in which it apparently wants to "disrupt the status quo of the world of diamonds," has started me thinking.
I don't exactly know what disrupting the status quo means in this context, especially for a company that has already done a great job of positioning itself as one of the strongest diamond jewelry brands, but I look forward to seeing the results of the ad campaign later this year.
What I do know is that when it comes to "disruption," sometimes small actions can have far reaching results. I was reminded of this again after reading an interview with Dorothée Gizenga the executive director of the Diamond Development Initiative (DDI) conducted by Gregg Krauss of jewelry company Brilliant Earth.
Just to remind you, the DDI is a multi-stakeholder organization that brings non-governmental organizations (NGOs), governments, and the private sector together to address the livelihood and problems of artisanal diamond miners. It focuses on creating sustainable economic development for millions of artisanal miners and their communities and provides expert advice, support and information to government members of the Kimberley Process' Working Group on Artisanal Alluvial Diamond Production.
As Gizenga told Krauss, the organization works with governments to convince them of both the need and the benefit to working with miners rather than maintaining the traditional way of thinking that such individuals are a nuisance who must be removed – often cruelly and violently – from the diamond fields. All too often, these individuals are prevented from sharing in their country's mineral wealth, despite there being few other viable economic opportunities for them.
And here's where the small-scale disruption translating into far reaching results kicks in; the DDI's approach says that small investments, in mechanized tools for example, will pay big dividends, both for the miners and for the economy, many of which are hemorrhaging profits.
Through one pilot project, the Development Diamonds Standards™ (DDS), miners in Sierra Leone are now mining diamonds in a responsible way. As the organization's website explains, DDS certification scheme is a unique effort to help ensure that the most vulnerable group of diamond miners, i.e., Artisanal Diamond Miners [ADM] and their communities, are not overlooked in the broader process of promoting ethical certification and responsible supply chains."
The results of this program are being widely felt, said Gizenga in the interview. One of the important points she noted is that there is no longer any child labor at sites at which the DDI is involved. "We've helped put children in safety. The conditions of work and the pay the miners receive are better. And now we are putting into place supportive programs such as schooling so that the children that we moved out of the mines can go somewhere."
Talk about disruption!
Just think, if such change can be enacted in a country with such a troubled past as Sierra Leone, then it must be possible to engender change in other countries where diamonds are being mined. Like so many things, there just has to be the will to make the change happen.
With thanks to Rob Bates of JCK for bringing this interview to my attention.