David Magang: Mutineer Turned Visionary
September 04, 08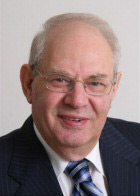 In October 1997, in a London conference hall, a "mutiny" took place. Few recognized it as such at the time. It was when the honorable David N. Magang, then Botswana's Minister of Minerals, Energy and Water Affairs, gave a speech in which he pointed out that some of the interests of De Beers and Botswana were shared but others were clearly different.
He then made an impassioned plea for beneficiation and called for having "new, free-standing international competitive cutting factories in Botswana." He broke the unwritten Botswana law of never attacking De Beers' policies in public.
Magang's speech also foreshadowed the breakup of the cartel when he unequivocally declared that Botswana "will not accept the burden of acting as the swing producer and buffer stock for the industry." He concluded that his ambition was for Botswana to become a major world center for all aspects of the diamond trade. "For us, it is not just a preference but a political imperative that our citizens should be active in substantial roles in and around the industry which supports our economy," said Magang.
De Beers was furious. Being in the audience, I realized at once that Magang had committed political suicide. De Beers was, in those days, so omnipotent in Botswana that no one got away with challenging their policies, which were basically the law of the land.
I respected Magang and enjoyed a few private conversations with him at the time. I was recently reminded of those discussions when I found myself quoted in one of the most remarkable bestsellers ever published in southern Africa, "The Magic of Perseverance," David Magang's memoir.
When, on April 1, 1998, the new Botswana president, Festus Mogae, had been sworn in, one of the very first presidential acts on that very same day was demoting Magang to Minister of Works, Transport and Communications.
Recalls Magang in his memoir: "To be honest, my redeployment was not exactly a bolt out of the blue; I had intercepted a fair amount of talk regarding it. To some well-placed people, in fact, it was not a matter of why or when; it was a matter of whether I would live to be redeployed. For instance, Chaim Even-Zohar, editor of a diamond magazine, told me that he knew as early as February that I would be shunted to another ministry when Mogae took the helm. To most of my well-wishers, my transfer, when it indeed occurred, was secondary; it was the fact that I was still in one piece, given my forthrightly candid views over De Beers vis-à-vis Botswanan diamonds, that gladden them."
Magang's 690-page book is a rare historical document in which a leading Botswana statesman shares his recollections and views of events over his lifetime. Magang touches on philosophical issues with regard to the roles of government cabinets and civil service, to mention but a few. The public debate in Botswana focuses mostly on governance concerns. But Magang also describes his many years of dealing firsthand with De Beers and on the ways in which the company operated during those years. Essentially, Magang concludes that De Beers had ways to secure support for its policies and actions.
The governance structure set up by De Beers in managing the diamond wealth removed Botswana officials from real decision-making or from finding out what was really going on, Magang says. "In an arrangement where half of the Debswana Board consists of its representatives, the Botswana Government can say that it has reasonable safeguards against unfair play on the part of its partner. That again is illusory. The indigenous people on the board are just too far removed from De Beers Centenary in Switzerland, let alone De Beers Consolidated Mines in South Africa, where strategies to profiteer at the expense of you-know-who are mapped out and kept under lock and key," he writes.
Magang surmises that "the probity of our representative board members has at times been compromised. For instance, it is alleged that a Debswana MD, himself a member of the board, once circulated a memo in which he asked his compatriots to indicate whether they were interested in buying Debswana-owned houses at very relaxed rates. Who in his right mind would bother to probe an entity that gave such an advantage?" Later on, he recalls the Debswana-supported scholarships for children of high officials to study abroad.
Continues Magang: "Probably the most vulnerable of all is the MD. The Debswana MD is not a government appointee; he is head-hunted by De Beers, who then forwards his name to government for approval. The odds, therefore, are that his loyalty will be primarily to De Beers and secondarily to government. De Beers, in fact, made Debswana MDs so comfortable that in meetings with the movers and shakers of government, they championed De Beers' positions as if they were sworn to martyrdom." These are very serious allegations.
Cabinet's Laughing-Stock
Magang recollects in his memoir how De Beers ensured that the few token factories that were established under great pressure never really were allowed to flourish. He is consistent in his views that Botswana had not been fully benefiting from its diamond riches. However, David Magang was truly a lonely man in these views and publicly never enjoyed any meaningful support, even though many agreed with him "in private."
"In cabinet, I had no ally; those who supported me… only did so in private," writes Magang. "I became the cabinet's laughing-stock, being derided as 'the only man in all of Botswana who dares advocate beneficiation.' President Quett Masire for one said to me during one of our discussions in his office in 1996/97 that Botswana, once a poor country, was now what it was because of De Beers' discovery of diamonds, in effect saying local beneficiation would be a slap in the face to De Beers. In correcting the president, I said it was not De Beers who had lifted us economically; it was our own, God-given resources."
Magang continues: "The De Beers top brass knew that although I was the minister of mineral resources, I had no clout; my own colleagues had isolated me and so the De Beers directors bypassed me at will and went straight to my superiors. So every time I held meetings with them, they would already have seen the president and the minister of finance, and when I took a stance that countered theirs, they would simply say 'But the president is already in accord with our viewpoint, and so is the vice president.' If they had had the cheek, they might as well have denounced me as a nonentity."
A few years after being fired from the Ministry of Minerals, and after some 25 years of serving his government, he left for private enterprise. Magang has actually done well for himself. Diamond manufacturers who have recently flocked to Botswana may know him as developer of Phakalane Estates, probably Botswana's largest and most prestigious residential, commercial and industrial developments.
Historically, Botswana provided up to two-thirds of De Beers' profits. In all fairness, one can fully understand that the cartel went to any length to protect its interests; though it is hard to approve the methods. In his memoir, Magang gives many examples of his failed diamond industry ambitions. He wanted to bring in Lev Leviev as a major manufacturer in the mid-1990s, but De Beers prevented that. He also wanted a five-percent sales window that would independently market part of the production to verify the prices Botswana was getting from De Beers. He had reasons to believe that the export values were grossly understated. On top of that, there was the 10 percent sales commission to De Beers, which was money, Magang felt that should have gone to benefit Botswana. Even after initially getting support for such measures, they were eventually killed after a short helicopter visit from South Africa to Botswana's president.
What is most remarkable today is that the people within the Botswana government who had been fighting beneficiation then are the very same people who, a decade later, forced De Beers to support it wholeheartedly. Magang quotes many of the economic arguments then raised by De Beers against the prospects of the success of beneficiation. And, basically, even today, no one in government or at De Beers has come up with convincing counter-arguments to show that their previous position was totally wrong. Now it is merely stressed that downstream verticalization allows one to earn back the losses (or reduced profits) at the manufacturing level.
I strongly believe in the inalienable rights of the Botswana people to determine the destiny of their own mineral wealth. The Botswana people and their government must know what is best for their country. They even have the right to err. One shouldn't second-guess their decisions.
The Magang memoir, however, demonstrates a 180 degree u-turn on diamond issues throughout the entire country, its economy and its political echelons. After having fought it tooth and nail for 30 years, everyone in Botswana and De Beers are now in a hurry to get the diamond industry off the ground before the country itself runs out of diamonds. It's far more a matter of political imperatives and national aspirations than pure economics – at least this the impression one gets. The relationship between government and De Beers seems to be one of equals, and if one has the upper hand, it would be the government. The book underscores the contrasts, the enormity of these extreme changes of policies.
Magang's views on De Beers and beneficiation were already espoused in speeches and articles when he was a parliamentarian and private citizen – long before he became the responsible minister. Everything Magang envisioned as early as the 1970s has now become one of the nation's highest economic and social priorities.
In his foreword, Magang recalls, "my life has in fact been punctuated by adversity. I have run the gauntlet of trials and tribulations, been tossed from pillar to post, and escaped death by the breath of a hair on more than one occasion. Certain of these calamities have been mere fate. Most have been pure machination, with both friend and foe competing to plot my woes… In short, this story is not necessarily of David Magang. It is a lesson in fortitude, a sermon, by and large, on unyielding resolve, a study in resoluteness of purpose. It is endeavor not so much to parade a certain man's virtues as to showcase the efficacy, generally, of an imperturbable steely core."
Obviously, most events described in his memoir are not diamond-related. Magang's book is almost like the history of his nation. Magang was born a MoKwena, which means a member of the BaKwena tribe (or a people who dance to the totem of the crocodile). Magang traces his family and tribal roots well back to the 19th century, and in a delightful manner he describes the tribulations of his people over a few hundred years. He recalls that tribal people had found diamonds long before Botswana's independence, but these findings were always kept secret – lest it would draw unwanted foreigners into their territories.
David Magang is a great African statesman and leader. From a diamond industry perspective, however, he was more like that fellow that stood in front of a tank at Tiananmen Square. Then he was alone. In due time, however, the nation has come to see things his way.
Have a nice weekend.