Rio Tinto Q3 Diamond Production 2.79 Million Carats
October 14, 09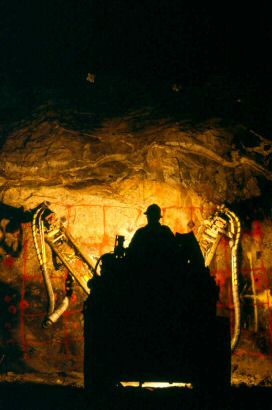 Underground work at Diavik
Rio Tinto's three diamond mining operations yielded the company 2.787 million carats in the third quarter, a massive 54 percent decline from the third quarter of 2008 but soaring 118 percent from the preceding second quarter.
The diamond production results indicate that while Rio Tinto is yet to reach last year's production levels, it has already fired up its mines and production is on an up swing.
In the first nine months of the year, production fell 31 percent to 9.575 million, the multi-commodity miner reported on Wednesday in its third quarter 2009 operations review.
The majority of Rio Tinto's production was at its fully owned Argyle mine, 2.274 million carats. This is a 51 percent year-over-year decline but a 457 percent leap compared to the second quarter production.
According to the company, third quarter production at Argyle "recovered from the planned maintenance shut [down] at the processing facilities." The March to May shutdown ended in June when processing recommenced. On a carats per tonne (cpt) basis, Argyle's production grade stood at 1.55 cpt.
Rio Tinto's 60 percent share of production at Diavik stood at 497,000 carats, a sharp 64 percent decline compared to the third quarter of 2008 and a 42 percent rise compared to the second quarter of 2009. Diavik maintained its high diamond grade, standing at 4.45 cpt in the quarter.
Third quarter production at Diavik experienced the 64 percent decline due to the six week summer shutdown that took place in July and August. This impact was partly mitigated by ore being sourced from the higher grade A154 pipe, the company said.
Diavik is expected to produce between five and six million carats of rough diamonds in 2009. This will be split on a 60/40 basis with Harry Winston Diamonds.
The company's 77.8 percent share of production at Murowa in Zimbabwe was 17,000 carats, down from 58,000 mined last year. Murowa had a low production grade of 0.24 cpt, which is offset by the mine's high value goods.