De Beers Posts Record DTC Sales of $3.5B in H1 (Updated)
July 26, 11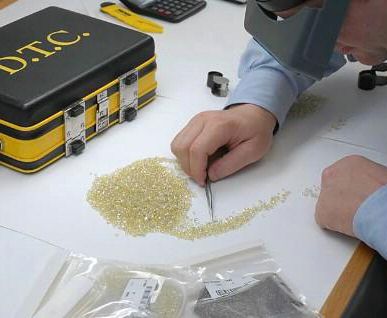 A Sightholder examining rough diamonds at a DTC Sight.
The DTC posted record sales in H1 2011
(IDEX Online News) – "Excellent" rough price increases this year resulted in record sales and earning results for De Beers in the first half of 2011. The company reported record earnings before interest, tax, depreciation and amortisation (EBITDA) of $1.18 billion, a 55% increase over 2010.
Diamond Trading Company rough diamond sales in the January-June period were $3.493 billion, a 33% increase compared with 2010 and a record sales figure for the DTC.
The record sales result was driven by price increases of approximately 35% during the period, the De Beers Group said in an interim results report released this morning (Tuesday).
The sales results are "buoyed by continued retail demand from the Indian and Chinese consumer markets and stronger than expected demand in America," it said.
De Beers' diamond mining operations recovered 15.53 million carats, a slight increase from the 15.43 million carats mined in the first half of 2010.
The Group ended the six-month period with net earnings of $694 million, compared to $255 million a year ago, a 172.2% increase.
Free cash flow of $469 million is a reduction of 24% on last year due to the timing of stock purchases in the current period compared with 2010.
"Despite the ongoing turmoil with the global economy, we are encouraged by the continued strong growth in price and demand during the first six months of 2011," the company said in its outlook.
"De Beers is confident that the exceptional growth in retail markets in India and Asia will continue to drive demand for diamonds. Reports from the recent JCK trade show indicate that the all important Christmas season in the U.S., and Diwali, are set to be strong."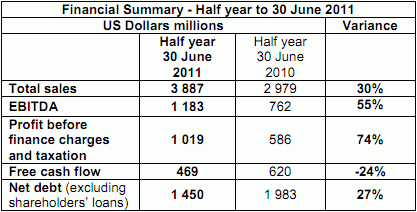 Source: De Beers Group
(Last updated July 26 3:09 am)