Botswana's Diamond Exports at Record High
February 06, 12
(IDEX Online News) – Botswana exported a record $4.34 billion worth of diamonds in 2011. Total rough and polished diamond exports increased 51.9 percent in actual exchange rates, as the country is about to become a global trading center in 2013.
The African country exported $159.4 million worth of diamonds in December, up 6.6 percent year-over-year, based on figures published by the Bank of Botswana.
At actual exchange rates, the reported export for the year totaled $4.5 billion.
Botswana is the leading diamond producing country by value, and the second largest producer by volume after Russia. Over the past few years the country has been implementing a policy of increasing local revenue from diamonds and as a result De Beers, the leading miner in the country, has agreed to offer local supplies to polishers.
These local Sights led to forming polishing facilities by some of the world's largest diamond firms.
In 2013, De Beers will move its diamond-selling arm, the Diamond Trading Company (DTC), to Gaborone. Botswana holds a ten percent stake in De Beers.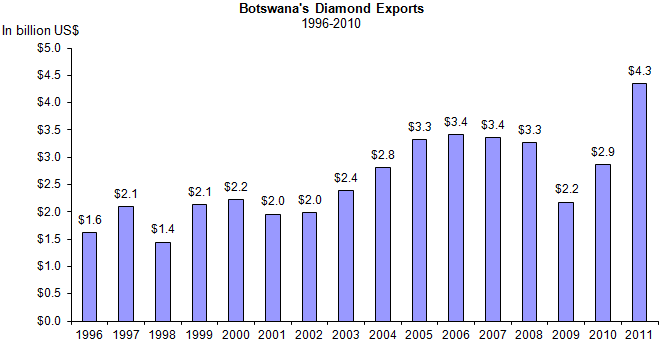 Source: Bank of Botswana