IDEX Teams Up With A Royal Co. To Bring Vision 360˚ System To Mumbai Bourse
October 13, 14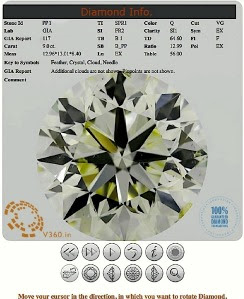 The Vision 360˚ photography system
at work.
(IDEX Online News) – IDEX Online is partnering with engineering and manufacturing firm A Royal Co. to bring the innovative Vision 360˚ photography system to the Bharat Diamond Bourse in Mumbai.
The Vision 360˚ system takes the uncertainty out of online diamond buying. The innovative photographic system allows diamond sellers and traders to photograph their stones from every angle, enabling buyers to clearly view the diamond online in almost as much detail as if it was in front of them.
"This system allows buyers to see every aspect of the diamond, including any inclusions or other impurities and, by removing the need to physically send the diamond from seller to buyer, saves all sides valuable time and money. The images are accessible on all systems, including tablets and mobiles and can be easily and quickly uploaded to all of the major trading portals, including idexonline.com.
"The IDEX team will photograph the diamonds using the Vision 360˚ system at its office in the Bharat Diamond Bourse. The images will be hosted on the IDEX server, with the option for them to appear on www.idexonline.com for purchase using the IDEX GDT™ and Buying Service. The image link will also be available for suppliers to use on their own websites."
Surat-based A Royal Co. has been involved in the diamond industry for the past 14 years. More than 250,000 stones have been uploaded to websites and online diamond trading portals using the Vision360˚ technology.
For photography services at the BDB, or to find out more about GDT, contact Shaliesh Shah at: +91-22-61273333