Rough Prices Still Too High at June Sight
June 15, 15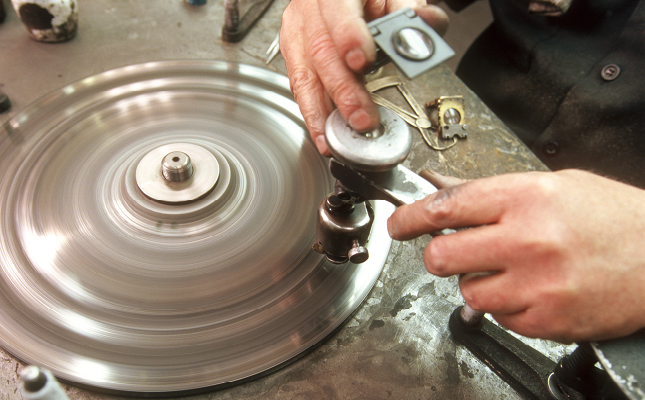 (IDEX Online News) – Following the latest Sight week, the secondary market is still
relatively quiet and the demand for goods is low. According to manufacturers, the
rough is currently still priced too high.
Most of the boxes were traded in the negative zone and some boxes were traded
at lower prices in later trading sessions.
As can be seen in the table below, the many prices marked in red show a potential
loss to the seller, or are selling at prices that don't cover the cost of the goods.
Cost = list + VAS (+/- 1.5%) + broker (+/- 0/5-1%) + interest (30 days = 1% interest
at market rate) not including operating costs.
The general mood in the market remains down.
Bluedax Market Report: Sight Five, June 2015
| | | | |
| --- | --- | --- | --- |
| BOX | LIST | SOLD | DAYS |
| Commercial 5-14.8 | 3435.55 | 5% | 90 |
| Crystals 5-14.8 ct. | 4414.8 | 4% | 90 |
| Fine 5-14.8 ct | 5615.8 | 4% | 90 |
| Spotted Z 5-10 | 1613.1 | 3% | 120 |
| Select mb 5-14.8 | 2242.74 | 3% | 90 |
| Misc 2.5-10 Ex 3 Col | 2695.67 | 3% | 90 |
| Frosted 2.5/10 cts | 2129.5 | 2.50% | 60 |
| Commons 2.5-10 ct | 784.88 | 6.50% | 120 |
| Common Cliv Rej 2-10 ct | 51.13 | List | 120 |
| Preparers Low 2-10 ct | 240.73 | List | 120 |
| Prep Cubes -10 ct | 461.91 | 2% | 120 |
| Brown Cliv/MB 2-10 ct | 330.8 | 3% | 90 |
| Col'd Cliv/MB +3/10 ct | 252.06 | 2% | 120 |
| Brn Rej 10ct / +5 | 22.17 | 4% | 120 |
| Col'd rejns +7/10cts | 18.92 | `-1% | 120 |
| Yellow brown 2-10cts | 404.77 | 4% | 90 |
| | | | |
| Fine 2.5/4 ct | 2417.58 | 1% | Cash |
| Commercial 2.5-4 ct | 1776.5 | 3.50% | 90 |
| Crystals 2.5-4 ct | 2364.49 | 3.25% | 75 |
| Select MB 2.5-4 ct | 1321.17 | 3% | 90 |
| Spotted Z 2.5-4 ct | 1040.8 | 2% | 90 |
| | | | |
| Fine Z 8 gr | 1645 | | 90 |
| Fine Z 4 gr | 735 | | 90 |
| Spotted Z 4-8 gr | 820.05 | List | 60 |
| Spotted Z 8 gr | 1110 | | 60 |
| Spotted Z 5-6 gr | 850 | | 60 |
| Spotted Z 4 gr | 575 | | 60 |
| Frosted Z 8 gr | 1200 | | 60 |
| Chips 4-8 gr | 863.75 | 5% | 90 |
| Chips 8 gr | 1250 | | 90 |
| Chips 5-6 gr | 900 | | 90 |
| Chips 4 gr | 600 | | 90 |
| Cubes 4-8 gr | 741.77 | List or (-2% Late Trading) | 60 |
| Cubes 8 gr | 970 | | 60 |
| Cubes 5-6 gr | 750 | | 60 |
| Cubes 4 gr | 510 | | 60 |
| 3 Col Chips 4-8 gr | 589.44 | 1% | Cash |
| 3 Col Chips 8 gr | 700 | | Cash |
| 3 Col chips 5/6 gr | 630 | | Cash |
| 3 Col chips 4 gr | 430 | | Cash |
| mb 4-8 gr (maccles) | 675.57 | 3% | 90 |
| mb 8 gr (maccles ) | 875 | | 90 |
| mb 5-6 gr (maccles) | 615 | | 90 |
| mb 4 gr (maccles) | 420 | | 90 |
| Col'd Z 4-8 gr | 653.6 | 2% | Cash |
| Col'd Z 8 gr | 975 | | Cash |
| Col'd Z 5-6 gr | 610 | | Cash |
| Cold Z 4 gr | 410 | | Cash |
| 2/3 Black MB 4-8 gr | 416.88 | 5% | 90 |
| 2/3 Black MB 8 gr | 550 | | 90 |
| 2/3 Black MB 5-6 gr | 440 | | 90 |
| 2/3 Blacks MB 4 gr | 343 | | 90 |
| Indian Clivage 4-8 gr | 245.78 | 2.50% | Cash |
| Z 3 gr +7 (mele) | 307.05 | 2% | 60 |
| Z 3 gr (mele) | 480 | | 60 |
| Z +11 (mele) | 355 | | 60 |
| Z +9 (mele) | 247 | | 60 |
| Z +7 (mele) | 200 | | 60 |
| Preparers low 3/6 gr | 72.08 | 4.50% | 120 |
| Z cliv -3 grs | 113.1 | 6% | 90 |
| Lot 1 | 185 | | 90 |
| Lot 2 | 107 | | 90 |
| Lot 3 | 104 | | 90 |
| Lot 4 | 92 | | 90 |
| Lot 5 | 63 | | 90 |
| MB high -3 gr +7 | 206.99 | 1% | Cash |
| MB high 3 gr | 358 | | Cash |
| MB high 2 gr | 252 | | 90 |
| MB high +9 | 160 | | 120 |
| MB high +7 | 130 | | 120 |
| | | | |
| MB high 7/3 | 103.9 | 3% | 90 |
| MB high 7/5 | 109.4 | | 90 |
| MB high 5/3 | 102.4 | | 90 |
| | | | |
| MB (-7+3) low | 62.25 | List | 30 |
| | | | |
| MB clivage -3gr +7 | 98.39 | 5% | 90 |
| Lot 1 | 160 | | 90 |
| Lot 2 | 113 | | 90 |
| Lot 3 | 81 | | 90 |
| Lot 4 | 77 | | 90 |
| Cubes -3 gr +7 | 169.31 | 5% | 90 |
| Cubes 3 gr | 275 | | 90 |
| Cubes 2 gr | 210 | | 90 |
| Cubes -11+9 | 131 | | 90 |
| Cubes -9+7 | 110 | | 90 |
| Cold cliv/mb -3gr | 67.1 | 2% | 90 |
| Indian longs 3 grs/+5 | 181.98 | 5% | 90 |
| Indian flats 3 gr/+5 | 134 | 5% | 90 |
| 1st Col Rejn (H-L) +11/+7 - abc clivage | 53.02 | 3% | 120 |
| 1st Col Rejn (H-L) +7/+3 - abc clivage | 51.02 | 3% | 90 |
| Grey Pique | 105.15 | List | 120 |
| Mix Rejection | 17.89 | 4% | 90 |