Sotheby's Geneva to Auction the Queen Maria-José Ruby and Diamond Ring
October 11, 15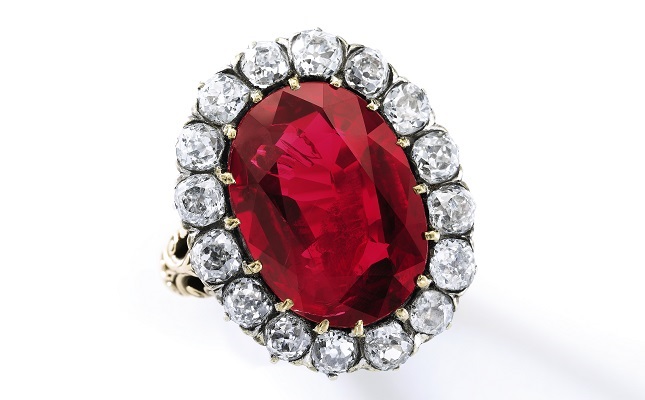 (IDEX Online News) – Sotheby's Geneva is to auction "The Queen Maria-José Ruby Ring." The ruby and diamond ring was formerly part of the personal collection of the last Queen of Italy, Maria-José, who died in 2001.
The ring, which was presented as a wedding gift by the scholar Tammaro de Marinis on the occasion of Maria-José's wedding to Crown Prince Umberto in 1930, is set with an 8.48-carat pigeon blood Burmese ruby. It has a pre-sale estimate of $6-$9 million.
The Swiss Gemmological Institute (SSEF) has certified that this important 8.48-carat ruby is of Burmese origin and has no evidence of heat treatment. "The rarity of this ring lies not only in the beauty, quality and Burmese origin of the ruby, but certainly also in [its] workmanship and well-documented historic provenance," said experts from the SSEF.
Within the last 12 months, Sotheby's Geneva has twice broken the world auction record for a ruby. In May 2015, the "Sunrise Ruby," a 25.59-carat Burmese ruby, sold for $30.3 million – more than three times the previous record. This result also marked a new record per carat record at $1,185,451 per carat: making the gem the first non-diamond to sell for more than $1 million per carat.
The previous record had been set in November 2014, when Sotheby's sold the "Graff Ruby" for $8.6 million, setting at the time a world auction record for a ruby, and a record price per carat for a ruby, at $997,727 per carat.
The Queen Maria-José Ruby Ring will be offered for auction at the Magnificent Jewels & Noble Jewels at Sotheby's Geneva on November 11.