CVD Lab-Grown Diamonds Available for Sale Online with GIA Natural Diamond Certificates
February 16, 16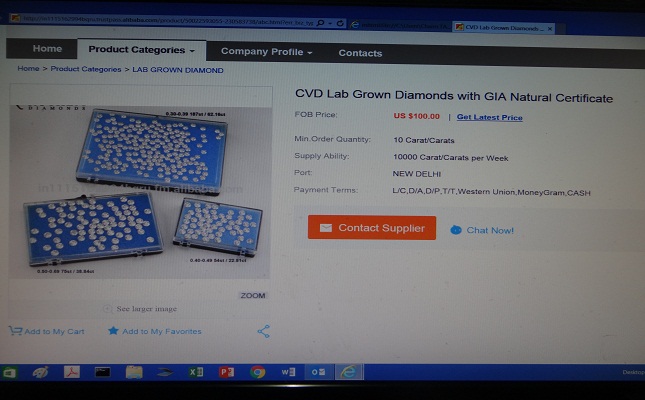 (IDEX Online News) – A Diamond Intelligence Briefs (DIB) investigation has revealed that a vendor on the leading online global wholesale platform, Alibaba, has offered CVD lab-grown diamonds with GIA certificates.
The seller, International Trading Corporation (ITC) claimed to have an ability to supply 10,000 carats of CVD diamonds per week and that it has a "stock of more than 25,000 IGI and GIA certified diamonds."
Having posed as a buyer, DIB gathered that the price was $100 per carat and up, with every stone of more than 0.15 carats allegedly carrying a genuine GIA natural diamond report. In response to the revelation, GIA senior vice president Tom Moses said, "We will immediately investigate this fraudulent use of our certificates."
According to Alibaba CEO Daniel Zhang, the company has more than 400 million annual active buyers, and it is that marketing power combined with almost complete anonymity that presents a threat to the diamond industry.
ITC, which claimed to be an Indian company with a sales office in Delhi, in fact has its main offices in Shenzhen, China. In addition to the Indian office, the company said it had sales offices in Czech Republic and elsewhere in China.
The source of the lab-grown diamonds is uncertain. The DIB investigation learned that the ITC website announced that its "synthetic lab-grown diamonds were made by CobLabs Hong Kong Limited." The company also claimed that its HPHT/CVD diamonds were so convincing that they routinely pass natural diamond tests.
Moses said that he had been aware for some time of the trade in genuine GIA certificates – and only the certificates, separate from the diamonds. He did admit though that a CVD manufacturer or trader could cut and polish a lab-grown stone in conformity with the certificate specifications – including the same weight and proportions.
It is unclear at this stage whether the GIA has involved either the FBI or India's Central Intelligence Directorate (CID) to investigate the DIB's claims further.
A Chaim Even-Zohar guest Memo on the topic will be published this coming Thursday, February 18.