British Retail Jeweler F. Hinds Awarded WDM Authorised Diamond Dealer Status
January 25, 17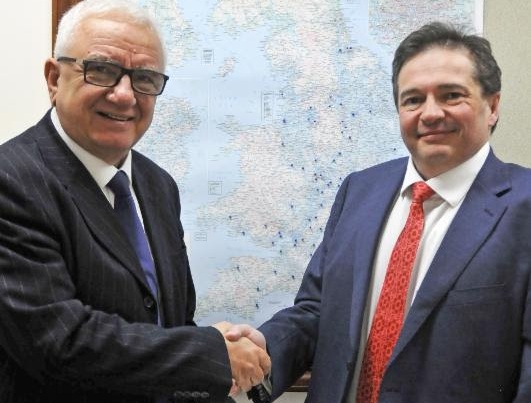 (IDEX Online) – F. Hinds, established in 1856 and the leading British, family-owned retail jewelry chain, joined the World Diamond Mark (WDM) Authorised Diamond Dealer program this month.
With 118 stores in the United Kingdom, F. Hinds is the first British retailer to join the WDM and carry the WDM Authorised Diamond Dealer Seal in all its stores.
"Taking on the WDM Authorised Diamond Dealer is a logical step for our firm," said Andrew Hinds, Director. "We are continuously looking to improve our reach, services and sales to the consumer public and the WDM's mission to rekindle consumer desire for diamonds, and the consumer campaign and service programs it is developing are completely in sync with our company's objectives."
Andrew Hinds is the most recent past-Chairman of the UK trade association the National Association of Jewellers (NAJ) and, as a qualified gemologist, is responsible for buying F. Hinds' diamond jewelry. Andrew personally hand-selects all the diamonds for the group's certificated solitaires.
Thanking Hinds for his vision and resolve, WDM Chairman Alex Popov said, "The WDM could not have found a better retailer to become the first accredited WDM Authorised Diamond Dealer in the UK. F. Hinds' reputation is immaculate, and we are honored to have the firm, with all of its 118 branches, on board with us. This milestone comes just before we launch the WDM's first consumer oriented campaign 'Part of You' that will be launched on www.passion.diamonds." Popov stated.
Andrew Hinds said, "Last year, we opened our 117th and 118th stores in Doncaster and Harlow and are looking to expand further in 2017. We celebrate 20 years online this year and we've fulfilled many thousands of orders including engagement rings, diamond jewelry and wedding rings. At F. Hinds, we guarantee the quality of all our products and as one of Britain's leading independent jewelers, we use our considerable buying power to source great products and pass the savings on to our customers. Also, since 2008, we have been proud members of the Responsible Jewellery Council (RJC) which aims to reinforce customer confidence in the jewelry industry."