GJEPC Wraps Up Industry-Wide Debate, Praise From PM Modi
March 21, 17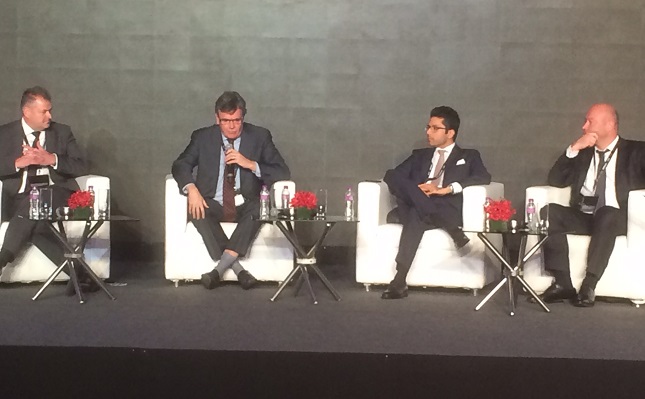 (IDEX Online) – India's Gem and Jewellery Export Promotion Council (GJEPC) wrapped up its latest Mines to Market conference on Monday, with words of praise from the country's Prime Minister, Narendra Modi, ringing in the ears of the organizers.
The conference took on extra significance this year as the GJEPC celebrates its 50th anniversary.
With speakers and panellists from across the globe, the conference – which began on Sunday – discussed a wide range of issues.
These included the perspectives of the mining firms, with presentations by Paul Rowley, Executive Vice-President of Global Sightholder Sales at De Beers, and Andrey Polyakov, Vice-President of Alrosa. A session on mining also included Jim Pounds, Executive Vice-President, Diamonds, Dominion Diamond Corp, as well as RBC analyst Des Kilalea who moderated along with Chaim Even-Zohar.
Another session looked at issue facing the midstream part of the market with presentations followed by a panel discussion featuring AWDC President Stephane Fischler, Kiran Gems Managing Director Mauji Bhai Patel and Harikrishna Exports MD Ghanshyam Dholaki.
In a special video link-up at the end of the first day, participants heard from Indian PM Modi who urged the country's diamantaires to further expand their global dominance in cutting and polishing diamonds and become an even larger trading hub, as well as increasing their jewelry exports.
Modi spoke of the enormous expansion of the country's diamond and jewelry sector annual turnover value of around $30 million in 1966 to almost $40 billion today.
Topics debated on the second day included marketing and the retail sector, financing for the diamond industry, diamond valuation and grading reports.
For a full report on the conference, see the upcoming issue of IDEX magazine.