Apollo And Artemis Diamonds Set Record For Most Valuable Earrings Sold At Auction
May 17, 17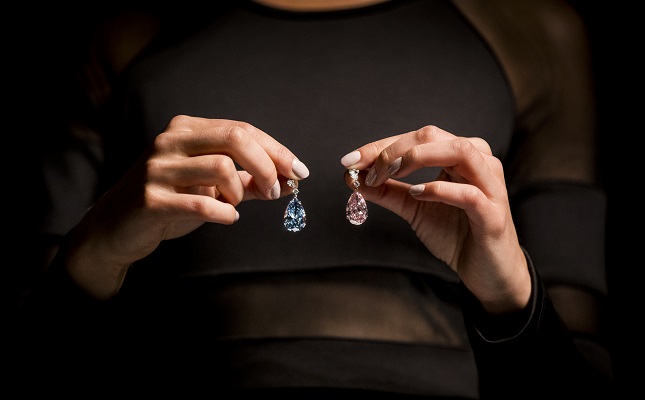 (IDEX Online) – The Apollo and Artemis Diamonds have become the most valuable earrings ever sold at auction, selling at Sotheby's Magnificent Jewels and Noble Jewels in Geneva for a total of $57,425,478.
The diamonds were purchased by an anonymous buyer, who renamed them 'The Memory of Autumn Leaves' (Fancy Vivid Blue diamond) and 'The Dream of Autumn Leaves' (Fancy Intense Pink diamond).
The Memory of Autumn Leaves is an Internally Flawless Fancy Vivid Blue diamond weighing 14.54-carats and sold for $42,087,302.
The Dream of Autumn Leaves, a Fancy Intense Pink diamond weighing 16 carats, sold for $15,338,176.
David Bennett, Worldwide Chairman of Sotheby's International Jewellery Division and Chairman of Switzerland, commented: "The results from the sale – which saw more than 90 per cent of lots sold and three new world auction records – yet again underline the strong demand for top quality diamonds, gemstones and jewels. I am delighted that the stones will remain together as earrings."
Other highlights included a diamond by Piaget weighing 7.04 carats which sold for $13,245,750.
A collection of diamonds and gemstones, as well as signed jewels from major jewelry houses, doubled pre-sale estimates to realize a combined total of $15,899,550.
A pear-shaped diamond ring, weighing 32.42 carats by Harry Winston doubled its low estimate to sell for S$3,330,288, while an emerald and diamond ring by Harry Winston achieved five times its estimate, selling for $929,465.
A ruby and diamond brooch and ear clips by Van Cleef & Arpels sold for a combined total of $477,551.
Overall, the auctioneer said there was a sell-through rate of 90 percent, with three lots selling for over $10 million, and five lots sold for more than $5 million.