Dominion, Jamesallen.Com To Market And Brand Canadamark Diamonds
June 04, 17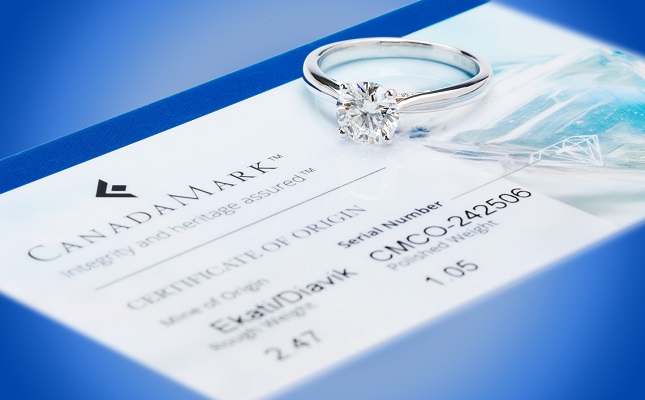 (IDEX Online) – R2Net, which owns JamesAllen.com, and Dominion Diamond Corporation have signed an agreement to market and brand CanadaMark® certified diamonds as part of a mine-to-consumer deal.
JamesAllen.com is the fastest growing online retailer of engagement rings and loose diamonds, and Dominion is Canada's largest independent diamond producer, the sides said in a media statement.
JamesAllen.com will be the exclusive online retailer of CanadaMark® certified diamonds. All CanadaMark® certified diamonds listed on JamesAllen.com include unique serial numbers and are tracked at every stage from the mine to the polished stone through independent, audited processes. All CanadaMark® certified diamonds are sourced from the Ekati and Diavik diamond mines in the Northwest Territories, Canada. They are laser-inscribed with a unique identifier and have an official certificate of origin.
The CanadaMark® program is a hallmark guaranteeing Canadian origin, and works with clients to assure end consumers that their diamond is responsibly mined in Canada and tracked through an independent auditing process at every stage from mine to polished gem.
"We are excited to partner with Dominion, continuing on our path of transforming the diamond industry by giving consumers a better diamond-buying experience – in this case, full transparency of their diamond's journey from the mine to their or their loved one's finger," said R2Net's co-founder and CEO Oded Edelman.
Dominion maintains a preferred position as a supplier of rough diamonds to the world's diamond manufacturers (cutters and polishers) by dealing directly with them and tailoring rough diamond parcels to the client's particular needs.
"We are excited to join forces with JamesAllen.com to provide end consumers with the confidence that their diamonds originate from two world class mines, Ekati and Diavik. CanadaMark® is well known as the mark of trust that your diamond was responsibly sourced and tracked from our mines through the stewardship of our select clients to our authorized retail partners," said Jim Pounds, Dominion's Executive Vice President, Diamonds.
Dominion's decision to partner with JamesAllen.com underscores JamesAllen.com's success in tapping into the growing online diamond jewelry market, and demonstrates confidence in the company's ability to continue to modernize the traditionally brick and mortar industry by offering better transparency, selection and value, the firm said.
"We are thrilled to partner with JamesAllen.com to offer increased transparency for diamond buyers, with a complete view into their diamond's source from mine all the way through to the gift box," added Pounds.
With a selection of nearly 150,000 ethically mined, fully certified loose diamonds and hundreds of ring settings, JamesAllen.com allows consumers to design or customize their own personalized jewelry pieces. All diamonds sold on JamesAllen.com are certified conflict-free in compliance with the Patriot Act, the Kimberley Process, and United Nations resolutions. James Allen's internal guidelines exceed government requirements, and the world's fastest growing online diamond jewelry retailer has binding contracts with its suppliers which guarantee that the diamonds they offer for sale are responsibly mined.