ALROSA Sells $1.13B of Rough in Q2, Posts Big Jump in Production
July 24, 17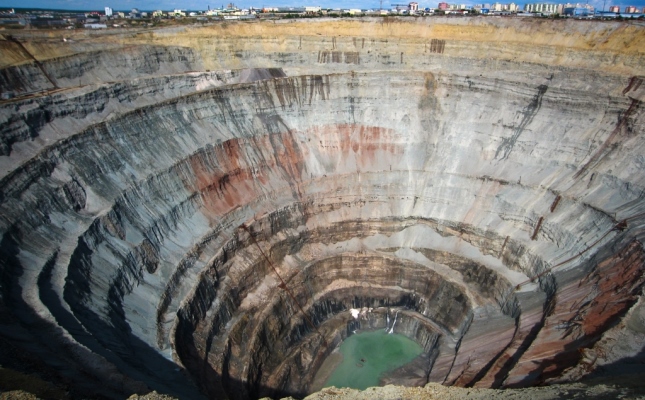 (IDEX Online) – Russia's ALROSA reported that according to preliminary figures its rough diamond sales in Q2 2017 amounted to 10.20 million carats, including 8.05 million carats of gem-quality rough diamonds with an average price of $138.4 per carat.
Rough diamond sales for Q2 2017 amounted to as much as $1.13 billion, while polished diamond sales amounted to $22.7 million.
It also sold 2.15 million carats of industrial-grade rough diamonds with an average price of $8.5 per carat.
The firm reported that output in January to June 2017 amounted to 19.3 million carats, rising 14 percent year-on-year. An increase in diamond grade of 19 percent on average, made the growth possible.
In the first six months of this year, ALROSA Group processed 16.2 million tons of ore and sand, which gave 19.3 million carats of extracted rough diamonds, 14 percent higher against the same period in 2016. The increased processing of ore with higher diamond grade from the pipes Yubileynaya, Zarnitsa, Karpinskogo-1, Mir underground mine, and sand from alluvial deposits has been the major growth driver. Aikhal and Udachny underground mines also demonstrated a growth in diamond mining.
As a comparison, in the same period last year, ALROSA processed 16.9 million tons of ore and sand, each ton contained an average of 1 carat of rough diamonds.
Igor Sobolev, ALROSA First Vice President said : "Most of the company's major mining and processing divisions demonstrated an upward trend in the production results-both in terms of production output and in terms of diamond grade. For the first six months of this year, Aikhal Mining and Processing Division, accounting for more than a third of the whole diamond output by ALROSA Group, extracted 6.9 million carats of rough diamonds, 26 percent higher year-on-year."
The Mirny Mining and Processing Division increased production by 13 percent to 4.4 million carats, Udachny by 29 percent to 2.1 million carats, Nyurba by 2 percent to 3.4 million carats, and Lomonosov by 28 percent to 1.2 million carats.