World Diamond Mark Launches Chinese-Language Website
August 31, 17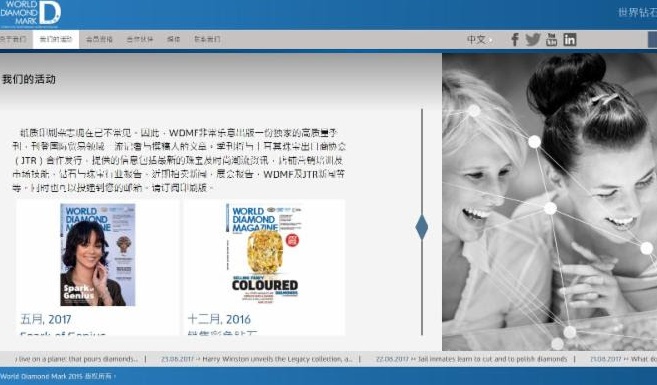 (IDEX Online) – The World Diamond Mark Foundation (WDM) has launched a mirror site in Chinese which is accessible from the WDM home page.
The new site is the result of close cooperation with the Shanghai Diamond Exchange (SDE), and was translated and adapted with the direct involvement, encouragement and cooperation of SDE President Lin (Frank) Qiang and SDE Vice President Caroline Yuan.
"The Chinese diamond, gem and jewelry market is the undisputed rainmaker of our industry, and with the introduction of the Chinese-language mirror website we have significantly lowered the threshold for the Chinese B2B market to come and take part in the WDM's promotional efforts for diamonds and diamond jewelry," said Alex Popov, WDM's Chairman and CEO.
"We are very grateful to Lin Qiang and Caroline Yuan for the many efforts they have expended toward this goal. This, however, is only the start. With the Chinese-language website, we expect to be raising an increasing interest among Chinese retail jewelers to take part in our WDM Authorised Diamond Dealer program. The SDE and its leadership will be of crucial importance toward the WDM's expansion and success in the Chinese retail market," the WDM Chair added.
With the addition of the Chinese-language website, the WDM site is now available in English, Russian and simplified Chinese. "Our next objective is to create mirror websites in Arabic and Spanish. i.e. for the Middle Eastern markets that have shown momentous growth, as well as in Latin America where the consensus for potential growth is significant as well. Toward that purpose, we hope to be cooperating closely with the WFDB member bourses in Dubai and Panama."