'Pink Promise' Highlights at Christie's Magnificent Jewels Hong Kong Auction
November 29, 17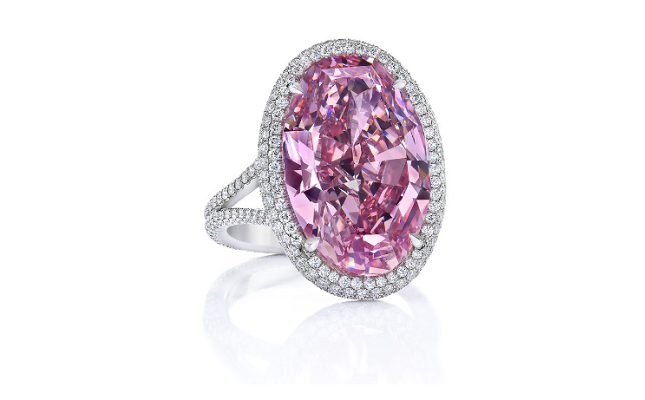 (IDEX Online) – The 'Pink Promise' was the highlight of Christie's Magnificent Jewels Hong Kong auction, with the 14.93-carat Fancy Vivid pink diamond selling for $31,861,000.
The auction house said the sale price was a world-record per-carat price for any pink diamond weighing more than 10 carats. The pre-sale estimate for the oval stone was between $28 million and $42 million.
The creation of the Pink Promise was something of a gamble for its previous owner, Stephen Silver, who recut a 16.21-carat Fancy Intense pink diamond in a bid to achieve a maximum color potential. Together with a master gem-cutter, Silver spent several years planning how to cut the rare Type IIa pink diamond.
The Fancy Vivid VVS1 pink diamond, set in a platinum ring and surrounded by diamonds, sold for approximately $2.13 million per carat.
The sale price was below the world record per carat price for pink diamonds. In a December 2009 sale at Christie's in Hong Kong, a cushion-shaped Fancy Vivid pink five-carat diamond sold for $2,155,332 per carat, and set a per-carat record price.