'Raj Pink' and Other Top-End Jewels Fail to Sell at Sotheby's
November 16, 17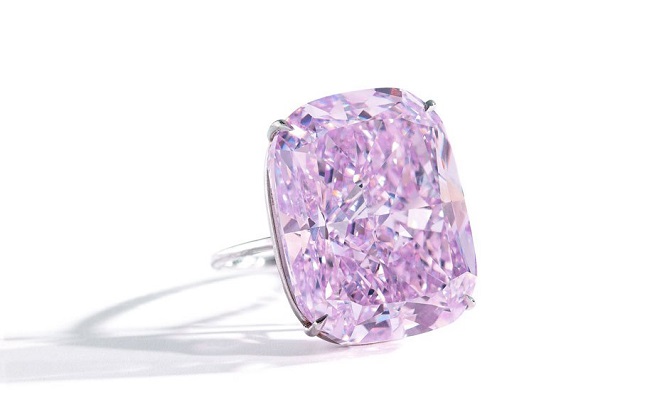 (IDEX Online) – Following a build-up last several weeks, there was disappointment when the 37.3-carat cushion-shaped "Raj Pink" ring, the star lot at Sotheby's semi-annual jewelry sale in Geneva, failed to sell.
The ring never got anywhere close to its pre-sale estimate of $20 million to $30 million, as bidding started at 9.9 million Swiss francs ($10 million) and stopped at 14 million Swiss francs.
All the more interesting was the fact that several other major jewels also failed to sell, perhaps indicating a slowdown in demand for staggering jewelry items.
"Pieces must be exceptional to sell today at the same level as two years ago," Eric Valdieu, a Geneva-based jewelry dealer formerly of Christie's, told Reuters after the auction.
The "Raj Pink" was not an easy stone to sell, he said. "It was a modern, recent stone and not a 10 out of 10 in terms of its color and form. It had no history," Valdieu said.
Meanwhile, Tobias Kormind, managing director of 77Diamonds.com, Europe's largest online diamond jeweler, said in a statement that Sotheby's sale was not augur well for prices: "I'm worried for the top end of the diamond market," he wrote.
Among the other non-sellers was a blue diamond ring by jeweler Moussaieff where the top bid was 12.4 million Swiss francs, and a pair of yellow diamonds that once belonged to the German princely family of Von Donnersmarck and topped out at 7.8 million Swiss francs.
Of the 349 lots offered for sale, only 303 were sold, Sotheby's said, the sale generated 77.9 million francs.
However, a world record was set when a Harry Winston fancy light pink diamond ring attracted the highest price for that category of stone at auction, Sotheby's reported. A telephone bidder paid 12.6 million Swiss francs for the item.
Meanwhile, Laurence Graff acquired two lots - a pair of flawless diamond earrings for 2.4 million francs, and a 19th-century emerald and diamond necklace and matching earrings for 1.63 million francs, Sotheby's reported.