Lucara Posts Sharp Drop In Q3 Revenue, Price Per Carat
November 12, 18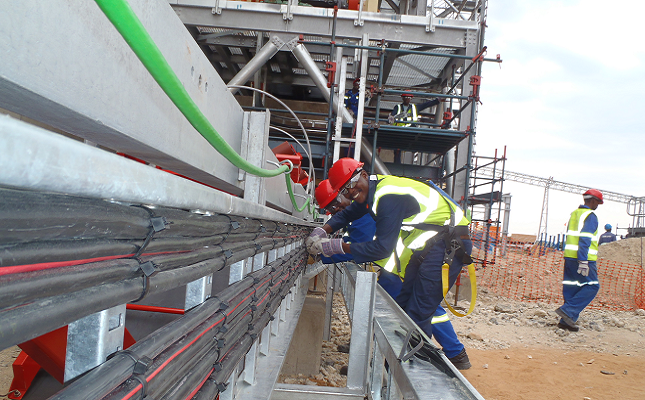 (IDEX Online) – Lucara Diamond Corp. reported quarterly sales revenue of $45.7 million (Q3 2017: $77.9 million) or $450 per carat (Q3 2017: $1,161 per carat) in its results for the third quarter ended September 30.
This revenue includes proceeds of $3.9 million received in July related to the company's June tender. Third quarter sales from 2017 included the sale of the Lesedi La Rona for $53 million ($47,777 per carat). Adjusting for the sale of the LLR, the Q3 2017 average sales price was $389 per carat.
The miner said that 197 specials (single diamonds larger than 10.8 carats) were recovered during the third quarter, representing 4.7% weight percentage of total recovered carats, in line with expectations; 10 diamonds were recovered greater than 100 carats in weight.
Net income for the three months ended September 30 was $5.1 million as compared to net income of $32.9 million in the comparative quarter of 2017.
Commercialization efforts at Clara are tracking according to budget and plan with inaugural sales expected to commence in November
Eira Thomas, President and CEO, commented: "Third quarter operational performance at Karowe exceeded expectations with respect to ore mined and carats produced, and reflects a seamless transition, three months ahead of schedule, to our new mining contractor, Trollope Mining Services. In parallel, we saw higher asset availability and record utilization rates for the process plant, positively impacting carat recoveries.
"Growth initiatives, focused on Clara and the Karowe underground expansion opportunity, also continued to pick up momentum during the quarter. Clara commercialization efforts are now complete, and we are pleased to be moving forward with our inaugural diamond sale later this month. Clara is the world's first secure, digital rough diamond sales platform to sell diamonds individually, based on a customer's specific demand, and is positioned to completely transform the diamond sales process, creating efficiencies and unlocking significant value for producers and manufacturers alike."
The company achieved revenues of $45.7 million or $450 per carat for its sales in the third quarter, yielding an operating margin of 59% during the period. Included in the Q3 2018 revenue are proceeds of $3.9 million from the June RST which were received in July 2018. The third quarter of 2018 saw Lucara host its first blended tender process in which both regular and exceptional diamonds, recovered in the period May-August, were sold achieving an average price per carat of $467 from the sale of 89,461 carats (Q3 2017: 64,289 carats), a 39% increase in the number of carats sold as compared to the same quarter last year. Overall lower revenues reflect natural variability in the number and quality of exceptional diamonds recovered in any quarter. Lucara sold the LLR during the third quarter of 2017 recognizing revenue of $53 million ($47,777 per carat). Adjusting for the sale of the LLR, the Q3 2017 average price per carat sold was $389.
The increase in the number of carats available for sale in the September tender follows commissioning of the sub-middles circuit in Q3 2017 and increased efficiency in diamond recovery in the smaller sizes during 2018. The number of carats recovered in Q3 2018 (127,031 carats) was more than double the number of carats recovered in Q3 2017 (62,425 carats). In Q3, Lucara also began setting aside diamonds in the one to fifteen carat size range in the better colors and qualities, for sale on Clara, Lucara's secure digital rough diamond sales platform. The removal of these diamonds from traditional tender sales will have an impact on the overall achieved average sales price, however, these differences will be captured and reconciled in the results reported through Clara. The inaugural sale on Clara is planned and tracking on schedule to take place later in November, 2018.
The company expects its 2018 revenue to be between $180 million and $190 million (2018 guidance: $170 million to $200 million).