Mountain Province: Gahcho Kue Mine Achieved Record 6.94M Cts In 2018
January 16, 19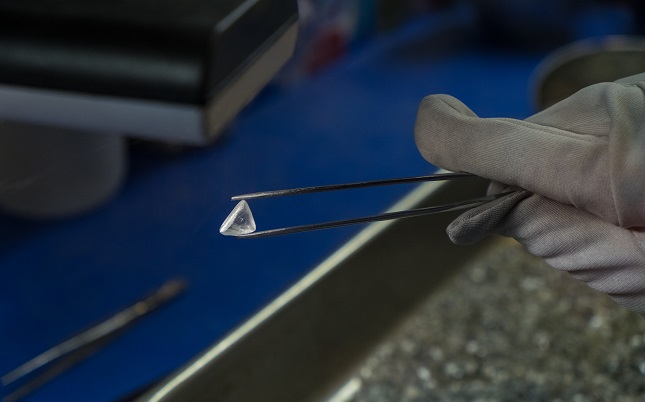 (IDEX Online) – Mountain Province Diamonds Inc. announced that production at the Gahcho Kué diamond mine achieved a record figure of 6.94 million carats last year.
Q4 and Full Year 2018 Summary
With another solid operating quarter in Q4 2018, the GK mine ended 2018 with record diamond production of 6.94 million carats at an average grade of 2.17 carats per tonne, 17% higher than the previous year. 11.4 million total tonnes were mined during Q4 2018 bringing the full year 2018 figures to over 41.4 million tonnes or 25% higher than in 2017.
In Q4 2018, the company sold 822,548 carats at an average value of $US 65 per carat for total proceeds of $US 53.6 million. For the full year 2018, the company sold 3,252,491 carats at an average value of $US 74 per carat for total proceeds of $US 240 million.
Q4 and Full Year 2018 Diamond Sales
"Diamond sales were in line with our expectations and reflect current market conditions. Prices for the better quality larger goods, where the majority of our value lies, remained strong throughout the year, however, during the latter part of H2 2018, lower qualities and smaller sizes experienced price pressure, driven predominantly by a weakened Indian Rupee against the US Dollar. Demand at retail in both the US and China for luxury goods were reported to be strong overall in 2018, initial reports from the Chinese and US holiday retail season are generally positive.
Reid Mackie, Vice President of Diamond Marketing, commented: "We had a strong start to 2018 with price increases in most rough diamond categories. Low quality and smaller sized rough diamonds did experience price pressure during H2 2018, but our sales process attracted sufficient demand to achieve the selling of all our production for the year. We expect to see more interest in the first quarter rough sales where the market is traditionally stronger."
Stuart Brown, President and Chief Executive Officer, commented: "From a production perspective 2018 was a good year for Mountain Province Diamonds where we achieved our expected tonnes mined and recovered a record amount of carats. Operationally, the mine has settled down and our expectation is that it will continue to perform at these levels in the future. So far in 2019, production has been positive."
Mountain Province Diamonds is a 49% participant with De Beers Canada in the Gahcho Kué located in Canada's Northwest Territories. Gahcho Kué is the world's largest new diamond mine, consisting of a cluster of four diamondiferous kimberlites, three of which are being developed and mined under the initial 12 year mine plan.