Alrosa Unearths Bright Yellow 17.44-carat Diamond at Verkhne-Munskoye
February 22, 20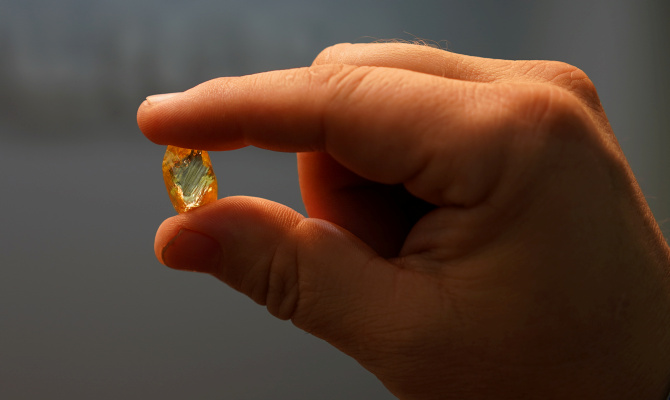 (IDEX Online) - Alrosa has unearthed its first colored rough diamond at the huge new Verkhne-Munskoye deposit in Yakutia, Russia.
The bright yellow gem-quality diamond weighs 17.44 carats and was recovered earlier this month from the Zapolyarnaya kimberlite pipe, which started operations at the end of 2018.

The transparent crystal with a habit transitional between octahedron and dodecahedron has dimensions of 18x20x9 mm.

"This is the first rough diamond with bright color found at the Verkhne-Munskoye since it was launched in 2018," said Evgeny Agureev, deputy CEO of Alrosa.

"The United Selling Organization of Alrosa will assess and evaluate this stone in detail. We hope this deposit will give us more large and interesting discoveries in future."

Global resources of colored rough that could be cut and polished into fancy color diamonds are scarce and the GIA says only one in 10,000 diamonds has a fancy color.

Last July, the same pipe produced a 63.15 carat diamond.