Coronavirus: Alrosa Auctioning Larger Diamonds Online
March 26, 20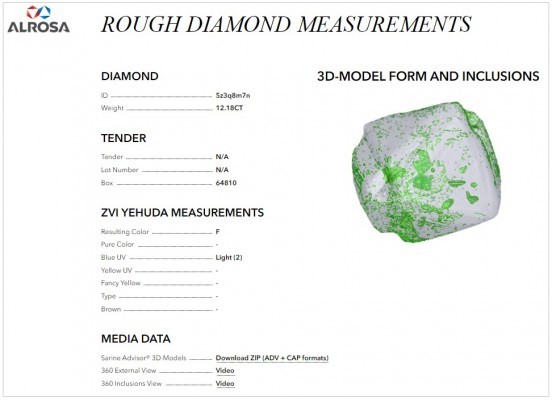 (IDEX Online) - Russian miner Alrosa is auctioning its large diamonds online, with digital scans of each stone, in response to the coronavirus pandemic.
Special size auctions of all diamonds weighing over 10.8 carats regularly take place at Moscow, Vladivostok and other international diamond trading centers and attract up to 100 companies from different countries.
Because of lockdowns and travel restrictions, Alrosa is now providing customers with a full digital scan of each rough diamond so they can bid remotely.
Information from a 3D scanner shows each rough diamond's external shape, internal inclusions, anticipated color and fluorescence, provided in a standard Sarine Advisor's planning format.
"Health of our employees and customers is essential for us. This is why we decided to cancel upcoming auctions and shorten those already in progress," said Alrosa's deputy CEO Evgeny Agureev.
Russian law stipulates that special size rough diamonds (weighing over 10.8 carats) must be auctioned.