Peace Deal: Dubai Office Opens at Israel Diamond Exchange
December 01, 20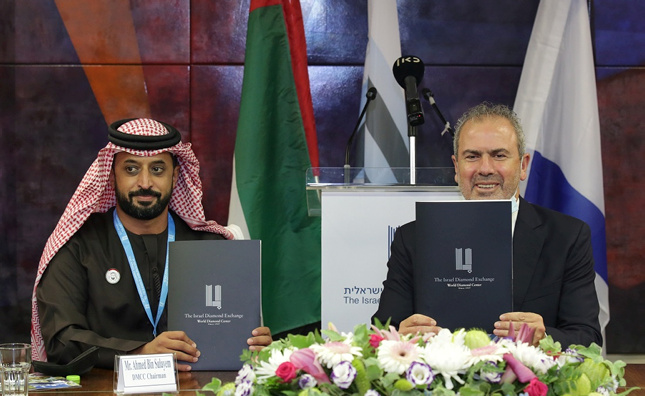 (IDEX Online) - Dubai's free trade zone yesterday opened an office at the Israel Diamond Exchange, in a landmark move to promote commerce and cooperation.
Officials from the Dubai Multi-Commodities Centre (DMCC) and the Dubai Diamond Exchange flew in on the first regularly scheduled flight from the UAE to Israel.
It follows the US-brokered Abraham Accords, normalizing relations between the countries, and a collaboration agreement that was subsequently signed between Dubai Diamond Exchange and the Israel Diamond Exchange in September.
The new office in Ramat Gan will help Israeli businesses from all industries and sectors set up a presence in Dubai and the DMCC, and will seek to significantly boost trade and business opportunities between Dubai and Israel.
Ahmed Bin Sulayem, executive chairman and CEO of DMCC, and chairman of the Dubai Diamond Exchange, said: "This is an exciting new chapter in the trade story of the United Arab Emirates and Israel, and one that will usher in a new wave of Israeli enterprise through Dubai.
"There has been an unprecedented level of interest from Israel in doing business in, with and through Dubai - especially in diamonds."
Yoram Dvash, president of the Israel Diamond Exchange and the World Federation of Diamond Bourses (WFDB), said: "This is a historic step that opens up vast economic opportunities for Israel in a whole range of areas, especially diamonds.
"Having the DMCC representative office in the IDE complex will enable us to work together to realize the full potential of the Israeli diamond industry."
Pic shows L-R
Ahmed Bin Sulayem and Yoram Dvash