"Record-Breaking" 71.26-ct Yellow Diamond Found at Ekati, Canada
September 28, 22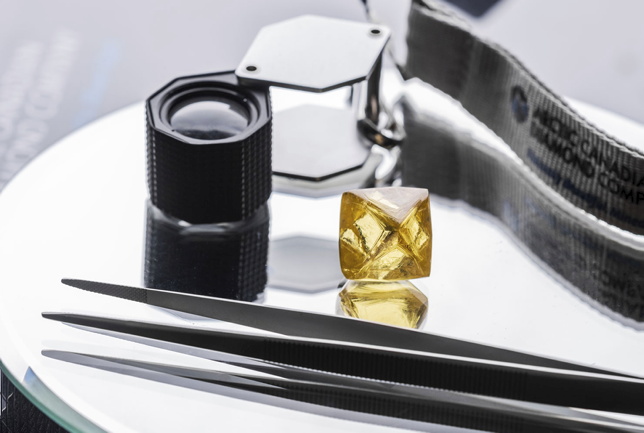 (IDEX Online) - Arctic Canadian says it has recovered what is likely to be the largest fancy vivid yellow gemstone discovered in Canada.
The octahedron diamond, weighing 71.26 carats, was found at the Ekati mine, in Northwest Territories, which was bought from the insolvent Dominion Diamond Mines last year.
"The beautiful rough diamond exhibits a near-perfect octahedral shape, a rarity for diamonds this size," the miner said.
"The octahedral shape is the form that natural diamonds take as they grow, but they are often broken from that shape over many millions of years and under extreme conditions."
Ekati opened in 1998 as Canada's first diamond mine. The Misery Pipe in specific, where the yellow diamond was recovered last month, has supplied many of the world's precious yellow diamonds.
"This historic fancy vivid yellow gemstone continues to showcase Canada as a major player on the world stage for diamond mining," said Rory Moore, president and CEO of Arctic Canadian.
Pic courtesy Arctic Canadian.