Pipeline Report 2022: The Reality of Hybrid Diamond Jewelry
May 30, 23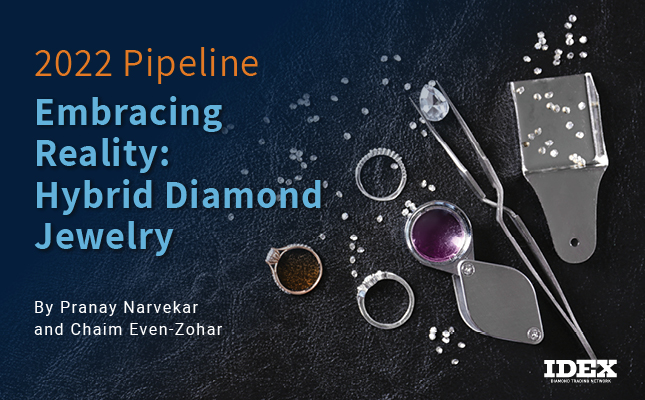 (IDEX Online) - Hybrid diamond jewelry - a mix of natural and lab grown stones - is the new reality.
That's according to the latest edition of the Tacy Diamond Pipeline, published by IDEX Online, which has provided an independent and unbiased view of the industry since 1988.
Hybrid jewelry offers the best of both worlds, say authors Pranay Narvekar and Chaim Even-Zohar, bringing greater transparency to a market tarnished by undisclosed lab growns.
It could also halt the erosion of faith in diamonds as a luxury product and slow the pace of growth for pure lab grown diamonds.
The 2022 Pipeline - Embracing Reality: Hybrid Diamond Jewelry - provides, for the first time, separate charts for the natural and lab grown pipelines, recognizing that the lab grown market is now worth over $12bn a year.
The current fall in demand for diamonds is nothing more than a market cycle, albeit a severe one, the authors conclude, but the real concern is whether, in the long term, lab growns will dent, or even destroy the Diamond Dream.
Last year's Pipeline predicted 2022 would be a tipping point for lab growns, as high street retailer lost their inhibitions, and sanctions on Russian rough limited natural supplies.
In 2020 it predicted that the pandemic could prove to be a blessing in disguise and in 2019 it warned of an uncertain future.