NYC Diamond District Demands Upgrades from Deputy Mayor
April 22, 10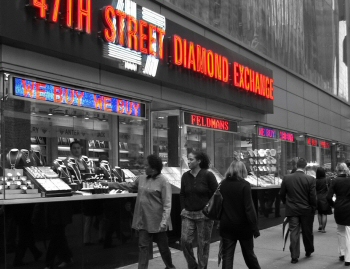 Diamond traders want to improve 47th St and attract
more people to it
Photo: Adrian Miles

Moshe Mosbacher, president of the New York Diamond Dealers Club (DDC), called on Robert C. Lieber, deputy mayor of economic development of New York City, to evaluate the current state of the Diamond District and the improvements that must be made.
The Diamond District, a one block district on 47th Street of Manhattan, comprised of 2,500 companies, 28,000 employees and over 10 billion dollars of annual revenue to New York City's claim. While the district boasts being the last standing manufacturing district in the city's history, its aura has been lost in a swarm vendors, trash and halkers - aggressive sellers there to lure people into a particular establishment or to sell stolen and often fake goods.
According to Mosbacher, certain aspects needed immediate action for the district to survive. The halkers on the street caused security, through-traffic and general ambiance to be greatly inhibited. Garbage and scaffolding stunt any attraction and movement around the area while visiting tourists find themselves haggled, confused and uncomfortable, Mosbacher said.
Deciding to take action, the DDC and industry members came together to become the smallest Business Improvement District (BID), in New York City. Though they have sat down many times with city officials, their efforts have dwindled over time due to government inaction.
Mosbacher plead his case, "Visualize a world where we had a wish list." The list would include creating a vendor-free zone and imposing deadlines on building owners to remove scaffolding. The greatest wish, Mosbacher continued, would be to have 47th Street completely closed to traffic.
Lieber questioned Mosbacher when he asked, "how do you regulate a halker hired by one of the businesses the DDC was trying to protect?"
He further asked to hear opinions on the new Gem Tower development by Gary Barnett, to which most responded with a lack of enthusiasm, but at least it was a step in the beautification department.
Ronald Friedman, president of the Diamond Manufacturers and Importers of America, summarized the feeling of the dealers when he said, "the Diamond District needed to be a place that tourists wanted to come to, exuding a feeling of luxury, like Park Avenue and Madison Avenue."
In reply, Lieber acknowledged that changes could be made and that his office would assist 47th Street in its desire to improve its environment. He warned, however, that he could not wave a government wand and fix the situation. The best form of action would be to unite the landlords and work with government to make a communal plan to improve the area for everyone to appreciate and benefit from.