At 30.5%, Diamonds Remain Israel's Main Export Category
August 05, 12
(IDEX Online News) – Israel's gross diamond exports represented 30.5 percent of the country's total exports of $67.8 billion in 2011. The figure, published on Sunday by the Central Bureau of Statistics, reveals the central role diamonds play in Israel's economy.
Rough and polished diamonds' share of exports increased in 2011 from 28.1 percent in 2010, when the country's exports totaled $58.4 billion.
In 2011, gross polished diamond exports was the largest single category of exports, $16.7 billion, or 24.6 percent of total exports, followed by chemicals and chemical products.
The U.S. is the leading destination of Israel's diamond exports, and in 2011 represented 41 percent of its total exports to the U.S.
Diamond exports of $3.5 billion worth of rough and polished diamonds represented 18.6 percent of Israel's exports to the European Union.
Israel exported another $8 billion worth of diamonds to Asian countries, mainly India and China. These exports accounted for 41.3 percent of Israel's exports to Asia.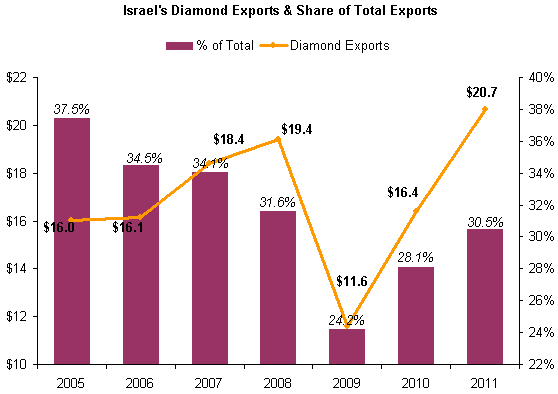 Source: CBS