Tools that Shaped the Cullinan to Go On Display at JCK Las Vegas
May 26, 11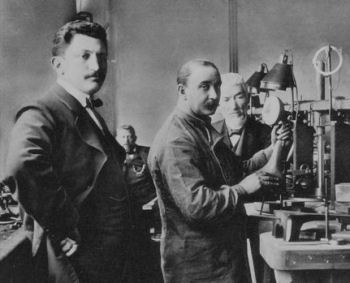 The Asscher brothers at their Amsterdam workshop

(IDEX Online News)
- Royal Asscher will display at the JCK Las Vegas show the original tools used to cleave the famous Cullinan diamond. Also on display will be a replica of the Imperial State Crown, one of Great Britain's Crown Jewels, containing one of the two largest stones cut from the Cullinan.
The Cullinan diamond is the largest rough gem-quality diamond ever found, at 3,105 carats. The diamond was presented to Great Britain's King Edward VII who asked the Asscher brothers to cleave it. In 1908, Joseph Asscher cut the stone into 9 large stones and 42 small stones.
In honor of this legacy, Royal Asscher is releasing a special vintage-inspired engagement ring. Royal Asscher invited designer Reena Ahluwalia to visit the headquarters in Amsterdam and recreate the romance, with a look back at some of its most celebrated pieces.
'Legacy,' a vintage-inspired platinum engagement ring by Ahluwalia, takes its inspiration from the fabled jewelry vault of the Royal Asscher Diamond Company from the 1920s-1930s, conjuring the old Hollywood glamour and romanticism.
"The 1920-30s are a reminder of stylized and warmly organic forms," Ahluwalia said. "Traces of this style can be seen in the 'Legacy' collection. Buds form the shank of the ring, with a centrally mounted Royal Asscher Cut diamond representing a bloom with promise of a new future and creation of a lasting legacy together."
Mike Asscher, Vice President of Royal Asscher Diamond Company and a sixth generation diamantaire says, "The Legacy collection captures the rare beauty of the Royal Asscher Cut diamond."