Phillipe Mellier Speaks About 'Building the Future' at JCK Las Vegas
May 31, 15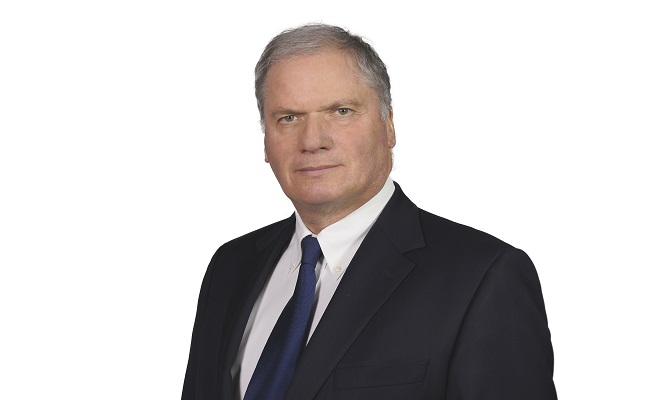 (IDEX Online News) – De Beers Group CEO spoke about "Building the Future" at JCK Las Vegas. Below is the complete transcript of his speech from May 29.
Good afternoon everybody and welcome to De Beers' Insight session at the 2015 JCK Las Vegas Show. It's great to see such a strong representation here, with people travelling from far and wide to attend this important industry event. My own journey over from Europe always affords me some time on the aeroplane to catch up with reading and as I looked through some of the media reports on the diamond industry in the lead up to the Show, I was reminded of how two people can look at exactly the same image and see something entirely different – it's all a matter of perspective.
And the diamond industry has felt a little like this recently. There has been a fair amount of apparently conflicting information – one day there will be a story of a growing industry; the next there will be a report of depressed demand.
While this may appear confusing, the simple explanation is that sometimes both things can be true at the same time.
And of course it is entirely understandable that many businesses will have a narrower view of performance. Many diamond businesses only operate in one element of the value chain or specialise in a single geographical market. And for others, the nature of their business may rely on their ability to navigate short-term dynamics, without regular reference to longer-term trends.
But at De Beers we are fortunate to have a different perspective from many other participants in the diamond trade. As miners we need to have a long term view on market dynamics, as the huge capital investments we make – which can run into the billions of dollars – often don't even start to pay off for several years. It's therefore vital for us to look further ahead so we can be confident that our investments are worthwhile. Alongside this, we also have activities across the value chain, which enable us perhaps to see a wider view of what is happening.
Of course, while we at De Beers may have the benefit of a broader canvas and a longer-term view because of our various activities in the value chain, we understand that it is not always easy to think about the long-term when you need to respond to a quickly moving polished market or handle a consumer standing across the counter from you asking for a better deal.
We recognise that there are challenges for the industry to address and we do not underestimate them. We see first-hand how rapid external changes and internal pipeline dynamics have created some difficulties for businesses across the value chain, including De Beers, and we fully appreciate that the last few months have been tough. Our futures are interconnected and we know that what is good for you will also be good for De Beers in the long run.
These challenges – that we all face – must not be ignored. But of course, it would be just as remiss of us if we were to ignore the opportunities on the horizon.
And whichever way we look at the industry, it's undeniably set on a very strong global footing. And within this worldwide picture the US has also been performing well.
And as we look ahead, in the medium to long-term the industry has very favourable global prospects and the US market is set to play a central role in the industry's bright future.
As I have said, there are of course still several challenges to address, but as an industry we understand the nature of these challenges. Our ability to analyse the world in which we will operate enables us to implement responses to short-term issues, to prepare strategies for the longer-term environment and to maximise value over the course of the journey towards our exciting future.
Strength of Recent Global Performance
So, first of all – let us consider what it is that gives us cause for optimism regarding recent global performance.
Well, first of all, our data shows that global diamond jewellery demand reached a new record high of $81bn in 2014. This proves that the diamond dream is still very much alive and, following the concerns over how the Great Recession may impact diamond buying behaviours, it is great to see that consumers spent more on diamond jewellery last year than ever before.
Alongside this, the data also paints a continued picture of some global growth.
The increasing demand for diamond jewellery was not a cultural phenomenon confined to a particular part of the world – this indicates diamonds' universal appeal and the industry's ability to tap into sources of demand wherever they may be. In 2014, positive growth for diamonds in local currency terms was achieved in each of the five major consumer markets, which together represent around 75% of global demand. Again, this is an excellent achievement as it shows how consumer desire for diamonds can be maintained worldwide in what was – and still is – a fragile, if recovering, global economy. It is also impressive that growth was maintained in locations that have varying levels of maturity and differing consumer preferences.
Meanwhile, as we move through the economic cycle, we continue to see the historical pattern of diamonds exerting an increasingly strong pull on consumers' desire, with diamond demand having grown healthily for the last few years.
Strength of Recent US Performance
So, the global picture has been positive in recent times. But of course today we have a particular interest in how the US has performed within this worldwide picture. Well, turning to the US specifically, there are also several reasons for satisfaction at how things have developed.
One thing that I believe surprised many people is that the US, despite being easily the largest and the most mature consumer market, posted the strongest growth last year with 7% growth year on year. When you are working from an already large base of demand, maintaining strong growth rates is never easy. And when the majority of the consumer base is already familiar with your product and what it represents, achieving growth becomes even harder. It is therefore extremely impressive that US demand outpaced that seen everywhere else around the globe.
In terms of the global share of demand by country, strong performance in 2014 also means that the US is now heading back towards to its pre-recession global share of diamond demand. Of course, this highlights the continuing scale of opportunity in the country where the diamond dream was first nurtured, as far back as the late 1930s.
There may be some 'new kids on the block' when it comes to diamond demand around the world, but it seems as though as things stand, no one gets the glamour of diamonds quite like the American consumer.
And while a strong US economy has clearly helped demand across the retail scene in recent times, there were some particularly positive signs for jewellery in 2014. But we must not become complacent as the competitive set is strong and there is still much to do.
Confidence in Future US Industry Prospects
So, there are strong grounds for optimism when we consider the global diamond demand outlook. But why are we confident about the future prospects for the US industry?
Well, firstly it is instructive to look at the macroeconomic picture. Historically, growth in demand for diamonds in the US has a close correlation with increases in GDP and, as we look ahead to the end of the decade, forecasts are for strong US GDP growth over this period. Data also indicates that we can expect to see a significant uptick in US private consumption in this timeframe, as well as healthy growth in personal disposable income. In addition, diamonds' share of the US consumer's wallet has been increasing since 2009 and is forecast to continue to grow. So, the macroeconomics clearly point to a lot of further potential.
It is also interesting to consider the forecast growth in the base of affluent US consumers over the coming years. Affluent consumers are expected to be the engines of US diamond jewellery demand growth and the number of US households with annual income over $100,000 is expected to increase by a Compound Annual Growth Rate of almost 5% through to 2019. This means that around 10 million additional affluent households will be created by 2019 in a country that currently has just 115 million households in total. This growth in the potential demand base here in the home of the diamond dream is a major source of domestic opportunity and one that we must ensure we maximise.
But it is also the case that we can expect to see demand in the US supported by purchases from international consumers. Chinese tourists are well known to undertake a lot of their luxury spending overseas and forecasts are that, by 2019, the numbers of Chinese tourists visiting the US will see a Compound Annual Growth Rate of almost 20%.
Allied to this is the US industry's ability to respond effectively to market-shaping trends. We have talked before about the importance of recognising the trends relating to online activity, consumer preferences for branded products and the share of advertising voice among competitive products. It appears that the US industry has listened to the messages and is starting to respond effectively to these trends, with more retailers becoming aware of the benefit of carrying more branded stock, more businesses setting up an online presence that suits their customers' needs and some encouraging signs relating to advertising spend in the jewellery category. Early indications are that leading retail jewellery businesses and jewellery brands collectively increased their advertising spend by considerably more than the rate of inflation – with some specific brands increasing by more than 10% - and this clearly helps when it comes to share of overall advertising voice. Meanwhile, an improved approach to digital marketing activities also has the potential to help the industry encourage more millennials to buy into the diamond engagement ring tradition. Forevermark has seen success through its digital marketing approach and it appears that it is not just the pure-play internet retailers in the US industry that appreciate the value of online – the data indicates that around two thirds of US online sales are now made by brick and mortar or multi-channel retailers, with internet-only retailers making up the balance of the online sales.
So, the global industry and the US market clearly both have great potential. But of course, as any successful sportsman will confirm, potential is one thing and realising that potential is another. We at De Beers recognise that there are significant challenges and the future opportunity will only be maximised if we as an industry find the right ways to navigate the challenges that could prevent us from reaching the bright future that all of the data indicates.
Challenges and Responses
So, it is important for us to consider some of these challenges and our ability to respond. As such, I would like to run through what we see as some of the major issues facing the industry.
1. The first challenge relates to global production capacity in the face of growing demand. This is especially pressing given the medium to long-term industry production outlook, the low hit rate of exploration and the time that it takes for discoveries to be turned into operational mines. Looking first at existing sources of supply, global rough diamond production forecasts from McKinsey indicate that existing rough diamond production will start to plateau and then decline gradually post 2020. When we look at exploration, of around 7,000 kimberlite pipes discovered globally, just 60 of these have been economically viable to mine. And of course, it usually takes several years to turn a deposit into a functioning mine – and this process could take even longer in future as diamond deposits become rarer and more remote. At De Beers we are not only maximising the capacity at our existing mines through a programme of major capital investment, committing to some of the largest projects in our 127 year history, but we also continue to invest in exploration. At Jwaneng, we are making an eighth cut, extending the life of one of the world's richest diamond mines. At Venetia, we are spending around $2bn on taking South Africa's largest diamond mine underground and extending its life beyond 2040. And in Canada's Northwest Territories we are building the largest new diamond mine currently under development globally with Gahcho Kue. And alongside these major investments, we also continue to invest in exploring for new mines in some of the most prospective areas on the planet so that we have the best chance of adding additional production to the existing global portfolio. Meanwhile, other diamond producers are also showing their faith in the industry's future by developing sources of supply in locations as diverse as Russia, Canada and India. But again, tapping these resources requires significant capital and if they are to prove a profitable long-term investment, the industry must continue to focus on growing the value of diamonds. Without this, future investments in new sources of supply will not make economic sense.
2. A second key challenge relates to the increasing need for financial transparency.
The 2008-09 financial crisis has fundamentally changed the face of global financing and banks now require much more 'bankability' from those to which they lend. In the diamond sector this has had major consequences. Since the financial crisis, the rates at which banks lend to diamantaires have increased significantly. This clearly puts a strain on the liquidity in the diamond pipeline, creating in imbalance in the flow of goods and reducing the efficiency of the value chain. At De Beers we have responded by introducing more rigorous financial strength and transparency requirements for our Global Sightholder Sales customers, thereby supporting the development of the diamond sector as a worthy recipient of bank funding. Our customers must meet International Financial Reporting Standards or the US Generally Accepted Accounting Principles for their groups and financial information; they must meet a maximum debt to equity ratio; and they must receive an unqualified sign off from an approved auditor on their financial information. All of this will serve to support the industry's reputation with this important stakeholder group.
3. Another issue to consider is the growing impact of technology. Technology is becoming more and more important in all parts of society and the diamond trade is no exception. Efficiency is also of paramount importance as input costs rise and all businesses need to maximise their margin potential. De Beers' recent investment in Synova, a technology business that develops water-guided laser cutting equipment that has the potential to deliver significant efficiency benefits in the cutting sector, is an important step in this area. It's a very exciting technology as its reduced generation of heat in the cutting process enables an increased yield when turning rough into polished and it can therefore deliver real, tangible benefits to the cutting and polishing part of the pipeline. In an environment where the industry's midstream is increasingly looking for ways to keep costs low and to improve efficiency, several diamond technology companies have developed new solutions that will help the industry sustain its success long into the future.
4. A fourth concern is one that will no doubt be front of mind for many of you in the audience today: consumer confidence. The end consumer's desire for diamonds is the only true source of value in the diamond industry, so their confidence in their purchases is vitally important to our future success. We have all seen the lessons from other industries such as the fur trade and we know that we simply cannot afford to have the confidence of our one true source of value ebb away. Of course, by now we are all aware of the risks related to the trade in undisclosed gem synthetics. We are proud at De Beers to be one of the leading developers of instruments to ensure that we can detect all gem synthetics, simulants and treatments so that consumers can be confident when they buy a diamond.
5. And another challenge that will exercise many of your minds is retail margin pressure. As consumers increasingly use the internet for research purposes ahead of a diamond purchase, brick and mortar retailers are faced with greater pressure on their margins. Consumers are now much more able to play retailers off against one another. They can look up diamonds or diamond jewellery with a particular set of 4Cs on the internet and identify typical price ranges for the stones concerned. While the consumer may not appreciate the intricacies of diamonds and may not really understand the premium inherent in a stone with better proportions, for example, this is of no consolation to the retailer who wants to secure a sale. However, branded offerings create new choices for consumers and help to generate value as people are usually willing to pay more for differentiated products. They also help generate greater consumer traffic in-store as the differentiated offerings provide a new point of interest with a distinct marketing approach. With this in mind, it is good news that many of the global brands are investing more and more money in their jewellery advertising. In addition, when we look at the proportion of overall revenue that several of the US industry's top diamond jewellery retailers have spent on marketing, there has been a gradual upward trend in recent years and this naturally supports success in the domestic market. Of course, our Forevermark brand also plays a key role in this space with its range of marketing activities.
6. And while we recognise that this list of industry challenges is not exhaustive, one other issue I think worth highlighting today is the growing importance of responsible sourcing for millennials. Fair trade products are occupying a greater share of retail categories across the board and it is no surprise that this is of particular importance to people when buying something with the uniquely emotional appeal of a diamond. Younger consumers increasingly want to be shown, rather than told, how a product can evidence its ethical credentials and this will increasingly be the difference between making a sale and watching the consumer purchase a different product or something from another category altogether. Forevermark also plays an important role in this area, in the way it is positioned to meet emerging needs from a new generation of consumers. With its brand promise of diamonds that are beautiful, rare and responsibly sourced, Forevermark is one of a number of young and rapidly growing brands that are well-placed to meet changing consumer desires. But we all need to do our part to bring millennials with us on our Diamond Dream
So, I hope that this gives you a fresh insight into some of the ways that we at De Beers are responding to a range of industry challenges. We believe that our approaches are very effective, but it is important to bear in mind that no single business can tackle the diamond sector's challenges by itself
We require an industry-wide effort to deliver industry-wide success. It is therefore
encouraging to see a number of businesses investing to support the ability of the industry to reach its full potential and I urge you all to keep looking at how best your own business can bolster the long-term prospects for diamonds
Conclusion
Ladies and gentlemen, I hope that today I have been able to impart a sense of why we at De Beers have such excitement about the diamond sector's future. The industry is clearly positioned for growth and, while there are certainly some challenges that need to be addressed, we believe we have put in place the right strategies to overcome these and the industry recognises where it can improve further
We are therefore getting ourselves in great shape to capitalise fully on the outstanding opportunities that will be driven by the demand-side dynamics.
So, I urge you to continue to bear in mind the importance of focusing on marketing, branding and retail standards; to keep alive to the preferences of consumers old and new; and to make sure you prepare your business to thrive in a growth environment
This is what we are doing at De Beers and these are not just words – several billion dollars of investment throughout the pipeline shows just how strongly we believe this
If we can all overcome the challenges we face while keeping in mind the scale of the long-term potential for the industry then we will forge a future of which we will all be proud. A future in which banks and regulators have full confidence in a robust and reliable industry. A future in which technology doesn't hold us back, but drives every part of the pipeline forward. A future in which consumers connect strongly with brands and retain their trust in diamonds. And a future in which demand grows more strongly than ever before.
Ladies and gentlemen, I believe that this bright future is well within our grasp and,if we continue to work together for the benefit of the sector, this future will be with us sooner than we may expect
Thank you very much