Same-Gender Unions A Positive for US Jewelry Industry, But Not A 'Big Deal'
July 28, 15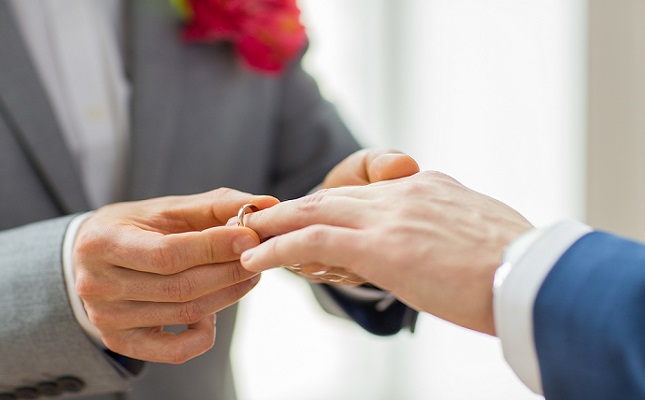 (IDEX Online News) – The US jewelry industry has been jubilant since the Supreme Court of the United States (SCOTUS) legalized same-gender unions recently. After all, many jewelry insiders concluded, this will be a big boost for sales of jewelry – particularly wedding related merchandise – in America.
There's no question that this will be positive for America's jewelry industry. But how much of a positive will it be? The SCOTUS decision is being called a "big deal" by jewelers, but the numbers don't support it.
IDEX Online Research has completed exhaustive examination of the same-gender wedding market and its potential for the US jewelry industry. At most, it could boost industry sales by perhaps 1 percent – just under $1 billion – between now and year-end 2016 as same-gender households legalize their living arrangement. After that, jewelry for same-gender unions will have only a minimal impact on industry sales, based on our analysis.
Research Methodology: Jewelry for Same-Gender Unions
IDEX Online Research utilizes only solid, empirical data and estimates that are credible and defensible. Speculation has no place in our research. Here's how we conducted our research into the market potential for wedding jewelry aimed at same-gender unions:
· Reviewed Census Counts – The US Census Bureau is the main source for reliable numbers on same-gender households. We also reviewed other resources; most reported results similar to the Census Bureau. Notably, a few sources suggested that the government numbers might be low, but offered no credible proof.
· Interviewed Retail Jewelers – We asked jewelry retailers a series of questions including 1) how much same-gender jewelry are they selling? 2) What is the average retail price point and average ticket for same-gender wedding jewelry? 3) What items are same-gender couples buying – both male and female. We also asked about same-gender customer traffic since the SCOTUS decision.
· Reviewed Advertising for Same-Gender Jewelry – We looked at jewelers' advertising and promotions aimed at the market for same-gender wedding jewelry, including online merchants.
· Interviewed Same-Gender Couples – We talked with same-gender couples who are in a legal union as well as those who are considering a wedding. We also talked with same-gender couples who cohabitate, but have no plans to wed.
It is important to note that IDEX Online Research "does not have a dog in this fight." We do not engage in any commercial activity in the jewelry distribution chain, and we do not own any equities or have an investment in any publicly held jewelers or their suppliers.
The Numbers – A Modest Market Size
We've seen an incredibly wide range of sales estimates regarding the market size for same-gender wedding jewelry; most of it has been an exaggeration about the market potential. As it turns out, no one seems willing to explain their methodology for calculating the size of the market; mostly they are publishing speculative data based on wishful thinking, in our opinion. IDEX Online Research has the only "hard data" backed by empirical evidence.
We've been generous with our estimates. For example, we assumed that every same-gender household enumerated by the Census Bureau will form a legal union and buy jewelry over the next 18 months. That's unlikely. We assumed an average ticket for same-gender wedding jewelry that is well above any level reported by our sample of jewelers. That, too, is unlikely. In reality, the number of same-gender weddings will likely be much lower than our estimate, and the average ticket is likely to remain lower than our estimate for the near future.
Here's our analysis of the market potential for same-gender jewelry, based on numbers from the Census Bureau, the Department of Commerce, and IDEX Online Research...
Click here to read the full IDEX Online Research article.