CanAlaska and De Beers Enter $15 Million Agreement for Diamond Exploration
May 19, 16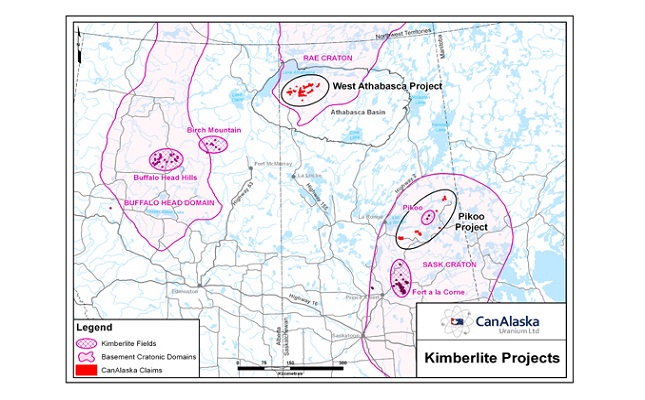 (IDEX Online News) – CanAlaska Uranium Ltd and De Beers Canada announced they have entered into a CAD$20.4 million ($15.7 million) deal for diamond exploration in the Western Athabasca.
CanAlaska, which holds interests in approximately 700,000 hectares in Canada's Athabasca Basin region, originally staked claims to exploration in the region, and optioned 75 kimberlite-style targets developed from a recent high resolution airborne geophysical survey carried out on behalf of the Saskatchewan Geological Survey.
The airborne magnetic survey was conducted in 2011 and revealed a series of discrete magnetic anomalies in the Grease River Fault zone. The area is one where little exploration has occurred. CanAlaska said that the Kimberlite Indicator Minerals (KIM) sampling programs in the Fort McMurray area of Alberta show a grouping of KIM dominated by chromite, with some pyrope and eclogitic garnets.
The deal requires De Beers to progress through the options within set time periods or return the property to CanAlaska. The priority work will include a detailed airborne survey, diamond indicator sampling in the vicinity of the targets, followed by drill testing prioritized targets.
"The location of the targets within a thick sequence of crustal rocks and their clustering around major structural features, provides a compelling target for CanAlaska and De Beers," said CanAlaska president Peter Dasler.
"We are very pleased to have joined forces with the world's premier diamond explorer to evaluate this 17,400 hectare (43,000 acre) claim package, which hosts numerous targets. Our alliance with De Beers will allow rapid first pass evaluation, and we look forward to the ability to participate with De Beers as a partner as the project grows."