De Beers' IIDGR to Showcase Phosview™ at UK Jewellery Conference
September 28, 16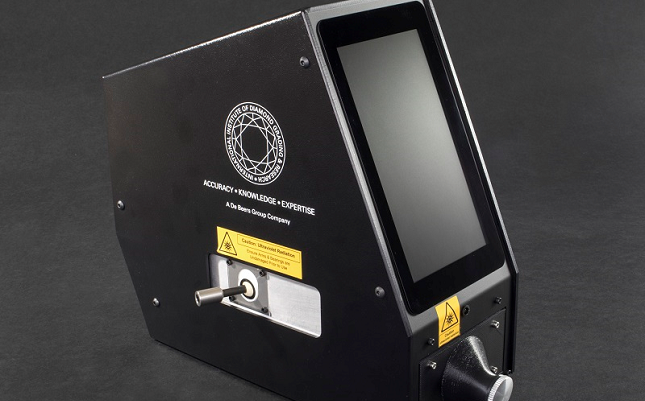 (IDEX Online) – The International Institute of Diamond Grading & Research (IIDGR), part of The De Beers Group of Companies, will showcase its PhosView™ screening instrument in the UK for the first time at the UK Jewellery Conference at the East Midlands Conference Centre on October 3 and 4.
The UK demonstration of PhosView™ follows the launch of the instrument at the Hong Kong Gem & Jewellery Fair on September 14 to 18, with demand for the technology having been particularly strong in the first two weeks it has been available to purchase.
The new instrument, PhosView™, is a compact, self-contained screening device designed to allow parcels of polished stones to be quickly and accurately analyzed to determine if they contain potential High Pressure High Temperature (HPHT) synthetics.
During analysis, colorless and near-colorless stones in the 0.003 carat (one third of a point, or 0.9mm) to one carat size range are viewed on a screen while being subjected to UV light. Any phosphorescing stones are revealed and may be manually separated out for further analysis using built-in manipulator arms. The machine is designed to screen loose diamonds as well some jewelry pieces.
The UK Jewellery Conference, run by the Company of Master Jewellers, will also see IIDGR demonstrate its industry-leading polished diamond grading services to the UK trade.
Jonathan Kendall, President of IIDGR, said: "Since we launched PhosView™ two weeks ago, we have seen a very positive response from the trade. Confidence is of paramount importance in the jewellery sector, and the efficient, reliable and cost-effective solution that PhosView™ provides for HPHT synthetic screening has proved to be very popular.
"We look forward to demonstrating the instrument to the UK trade for the first time at the UK Jewellery Conference, where attendees will also be able to learn about our rapidly growing polished diamond grading services first-hand."