Dominion: 'No Formal Offer From WashCorps, Will Assess Any Bid'
March 22, 17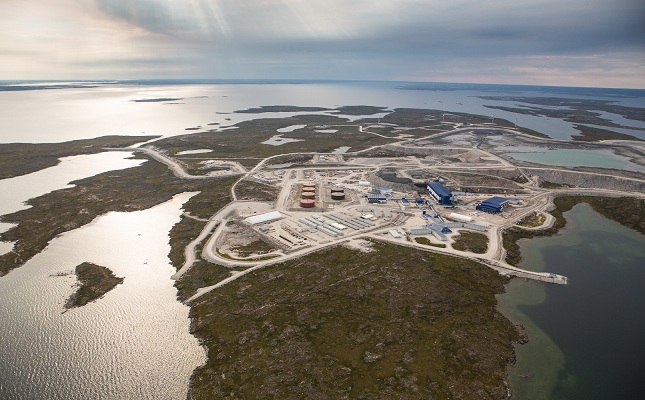 (IDEX Online) – Dominion Diamond Corporation says it "remains open to holding discussions with Washington Corporations (WashCorps) on customary terms and in a manner that protects the interests of the company and its stakeholders" regarding an offer to take control of the miner.
"WashCorps has not made a formal offer to Dominion or its shareholders," the miner said. "Should Dominion receive a formal offer, the Board of Directors will assess it."
"Dominion has consistently told WashCorps that it is prepared to engage in discussions on customary terms in order to allow WashCorps to improve its conditional and opportunistic indicative proposal.
"WashCorps has insisted on terms that would give it a 'free option' and present significant risks to the company and shareholder interests," Dominion added.
Dominion's directors "remain confident in the company's long-term strategic plan and the opportunity it provides to enhance value for all shareholders, as it always has."
Dominion said that in a bid "to provide clarity", it was making public the correspondence exchanged between the company and WashCorps "which highlights the aggressive and off-market terms and conditions proposed by WashCorps in regards to its opportunistic indicative proposal, and the company's responses."
In a letter to WashCorps President Lawrence R. Simkins, Dominion Chairman James K. Gowans wrote:
"Dear Larry,
Thank you for your indicative proposal, and your interest in the Company. Our board has carefully considered, again, the terms that you have insisted on for discussions with us, including your requirement for a lengthy period of exclusivity so that you can begin your due diligence, your insistence that you be able to veto our choice of CEO, and your refusal to accept a customary form of standstill.
While we believe there is more value in the Company than reflected in your indicative proposal, we are and have been prepared to work constructively with you and to engage in discussions with you on customary terms that would allow you to undertake the due diligence that you have said you require and so improve your view on value. However, we cannot, in the best interests of the Company and its stakeholders, grant you exclusivity, or the other rights that you have demanded, before you have completed any due diligence and before we have a better view from you on value.
If you are prepared to engage with us on the customary terms that we have proposed, then I'm confident that our respective advisors can settle an acceptable form of NDA and that you can commence your due diligence promptly. If there is a basis to move forward after you have completed this initial due diligence, then we would be open to considering a period of exclusivity at that time."