GJEPC Holds Diamond Detection Expo & Symposium in Surat
April 16, 17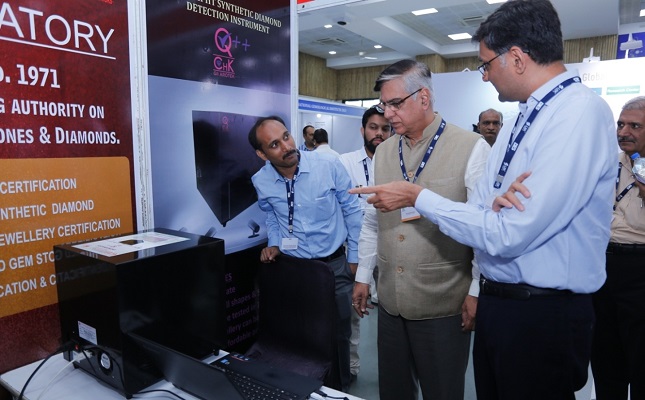 (IDEX Online) – India's Gem & Jewellery Export Promotion Council (GJEPC) organized the second edition of the Diamond Detection Expo & Symposium (DDES 2017) on April 14 and 15 in Surat.
The world's leading gemological laboratories showcased machinery, equipment and technology available to identify synthetic diamonds. The two-day event was jointly organized by GJEPC under the auspices of the Natural Diamond Monitoring Committee (NDMC).
GJEPC Chairman Praveenshankar Pandya and Tom Moses, the GIA's Executive Vice President and Chief Laboratory and Research Officer, inaugurated DDES 2017 in the presence of Dinesh Navadiya (Chairman, Surat Diamond Association and Gujarat's Regional GJEPC Chairman,), Ashish Mehta (Convener, NDMC, GJEPC), Nirupa Bhatt (Managing Director, GIA, India & Middle East) and Sevantilal Premchand Shah (Founding Partner, Venus Jewel).
Navadiya and several members of the trade took a solemn pledge that they will preserve the reputation of Surat and refrain from indulging in any malpractices. And Pandya announced a special 50% discount for all associations in Surat and nearby areas wanting to install diamond detection machines.
Pandya said, "DDES is one of several strategic initiatives to preserve the global trade and consumer confidence in diamonds from India. Surat – the world's largest diamond manufacturing centre – is the ideal location for DDES 2017, since it is home to over 5,000 diamond manufacturing units, including some of the world's largest and most advanced affordable diamond cutting factories. By leveraging digital initiatives, we intend to modernize key jewelry manufacturing hubs across India and empower them by sophisticated detection tools and techniques to safeguard ourselves against undisclosed mixing of synthetics. Mixing in any form is unacceptable."
Pandya added, "GJEPC has been spearheading awareness of detection, differentiation, disclosures and documentation with synthetic diamonds since 2013-14. We have been proactively engaging all key stakeholders because we realized that any instances of mixing will destroy India's reputation and credibility in the global gems and jewelry business. We have been able to restore faith and trust with firm assertive action and the active participation of bodies such as NDMC. We have commissioned independent research firms such as A. T. Kearney and Bonas & Co. to conduct research. The Bharat Diamond Bourse (BDB) has taken an aggressive stand and debarred the guilty. We have to protect our leadership and reputation built over years. We shall start a campaign to create awareness in 21 cities across India."
Navadiya said, "Surat is the largest diamond hub in the entire world with over 90% of the world's rough diamonds being polished here. We should be proactive and quick in taking steps against unscrupulous elements that tarnish the image of the industry and erode consumer confidence. Recently, there has been an increase in the production of gem quality synthetic stones. There has been a rise in instances where buyers have purchased synthetic diamonds believing them to be natural diamonds. Events such as the Diamond Detection Expo & Symposium make traders and manufacturers aware of synthetic stones and the various detection facilities available. DDES is a great opportunity for all manufacturers and traders to become aware of the synthetic diamond detection machine and equipment technologies and techniques."
Exhibitors included the GIA, the Gemmological Institute of India (GII), Gemological Science International, the Indian Diamond Institute, the International Gemological Institute, DRC Techno, HRD Antwerp and IIDGR among others. The equipment included AMS machines, Diamond Check, Diamond Serve, Spotter and PTIR Spectroscopy.
The two-day event included talks and panel discussions with renowned experts from the trade covering important topics. The panel discussions included:
One of the key recommendations of the recent NDMC study was improving detection technology for the industry. It is imperative for the gem and jewelry industry to keep abreast of developments regarding synthetic diamonds, detection technologies available.
Pictured above: GJEPC Chairman Praveenshankar Pandya takes a close look at the latest detection machines.