Mountain Province Posts Profit of $7.6M, Ups Output Forecast
August 10, 17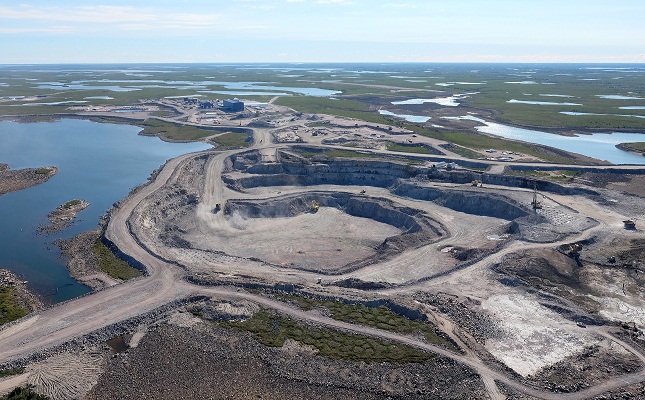 (IDEX Online) – Mountain Province Diamonds Inc. reported a net income of $7.6 million for the three months ended June 30.
The company has increased 2017 production guidance on a 100 percent basis by 25 percent to 5.5 million carats recovered (2.7 million carats on a 49 percent basis) from 4.4 million carats previously (2.2 million carats on a 49 percent basis). Guidance on carats sold for full-year 2017 has accordingly been increased by 20 percent to 2.4 million carats from 2.0 million carats previously.
The firm is the 49-percent owner of the Gahcho Kue mine in Canada's Northwest Territories, with De Beers Canada owning the rest. Commercial production was declared at the operation on March 1.
The company conducted two diamond sales during the quarter, of which only the second sale, which took place in June, was reported in the statement of comprehensive income. The proceeds from the first sale in the quarter were credited against the mine construction costs as those diamonds sold were recovered prior to the mine declaring commercial production.
The company's attributable share of diamond production for the three months ended June 30, was approximately 790,900 carats, and 1,215,800 carats for the six months ended June 30. Production in the second quarter was 86 percent higher than the first quarter, reflecting the achievement of commercial production effective March 1.
In the six months ended June 30, the company conducted five sales through its diamond broker based in Antwerp, Belgium for a total of approximately 892,000 carats, which included fancies and specials. Proceeds of approximately US$71.5 million or an average of US$80 per carat were received.
Gem and near-gem diamonds for the six months ended June 30, contributed approximately 96 percent of the diamond sales proceeds at an average price of US$128 per carat. The remaining 4 percent of proceeds came from industrial diamonds at an average price of US$7 per carat. Gem and near-gem diamonds represented approximately 60 percent of sales by volume to June 30.
Subsequent to quarter end, on July 20, the company closed its sixth and largest sale to date at an average realized price of US$72 per carat. Certain of the fancies and specials from this assortment were accelerated and sold in the fifth sale in June, and including the value of these diamonds the average realized price on the sixth sale assortment was US$87 per carat. This sale confirmed the continued strong market interest in the Gahcho Kué production, with 10.6 bids received per parcel and 83 percent of winning bidders being repeat customers.
Participation at the company's sales has steadily increased in recent months. Bids per parcel (approx. 120 parcels per sale) increased from an average of 9.1 over the first three sales to 10.8 over the last three sales. There is a high level of market interest and competition for Gahcho Kué diamonds with an average of 100 companies bidding for each sale.