Signet, Tiffany Lead Conflict Minerals Rankings Among Jewelry Retailers
November 16, 17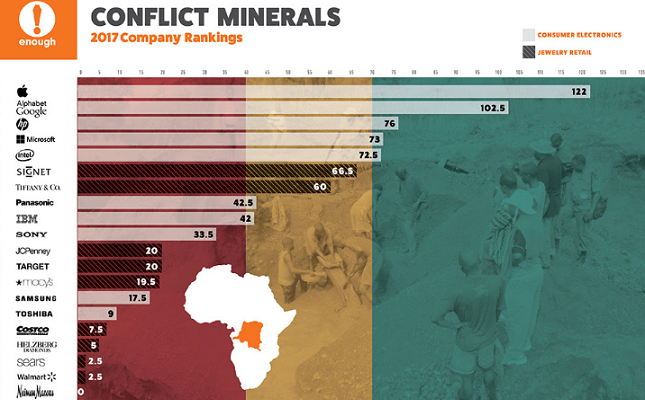 (IDEX Online) – Signet Jewelers and Tiffany & Co. lead the pack in the jewelry retail industry with other companies from this industry lagging far behind in the Enough Project's 2017 Conflict Minerals Company Rankings, published today.
The new rankings report examines 20 of the world's largest consumer electronics and jewelry retail companies on their efforts to support a conflict-free minerals trade and ensure their products aren't linked to a range of abuses in the Democratic Republic of Congo.
Apple is clear leader in supporting a conflict-free minerals trade; Walmart, Sears and Neiman Marcus are ranked worst; Rankings show steady advances on conflict-free sourcing from Congo, but urgent need for more action to ensure products aren't linked to mass atrocities and human rights abuses
Overall, 11 companies, including some of the world's most recognized brands like Neiman Marcus, Sears, and Walmart, were ranked in the red, indicating they were making little effort to combat the trade in conflict minerals from Congo. The rankings also clearly indicate that the consumer electronics industry as a whole is more advanced than the jewelry retail sector in corporate efforts to improve supply chain transparency and opportunities for conflict-free sourcing from Congo.
The Enough Project's 2017 conflict minerals company rankings examine 20 of the largest companies, as defined by market capitalization, in consumer electronics and jewelry retail – two of the industries which consume the most tin, tungsten, tantalum, and gold. Although a range of industries use these minerals—often referred to as conflict minerals or 3TG—enough chose to rank these two industries in particular because they have demonstrated the potential to be catalytic in the development of new policies and practices regarding responsible sourcing, and they are also particularly attuned to consumer pressure, the organization said in a statement.
"These latest rankings acknowledge the steady advances that have been made since Enough conducted its first company rankings in 2010 and expose the considerable and urgent need for more action. Apple emerged as the clear leader with its consistent fulfillment of the rankings criteria indicating that the company has committed substantial resources to developing processes for sourcing minerals from mines that benefit Congolese communities. Alphabet, Google's parent company, ranks second overall and HP, Microsoft, and Intel round out the top five companies."