CIBJO President Pledges Support For Indian Jewelry Industry at IIJS Opening
August 09, 18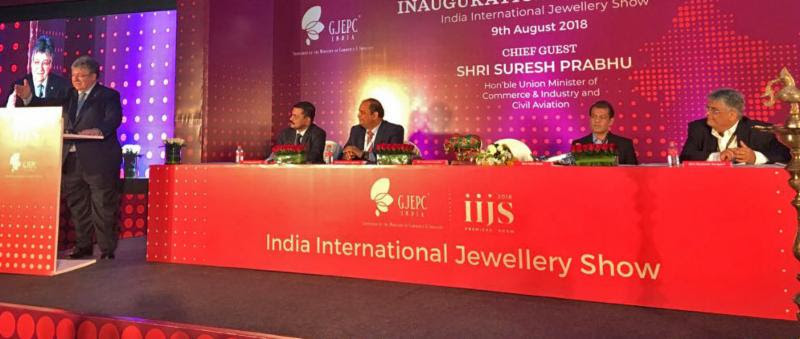 (IDEX Online) – CIBJO President Gaetano Cavalieri has pledged CIBJO's support for India's giant jewelry and gemstone sectors, during the opening ceremony of the summer edition of the India International Jewellery Show (IIJS), which took place at the Bombay Exhibition Centre this morning.
The massive jewelry and gemstone trade fair, which is organised by the Indian industry's primary trade organization, the Gem & Jewellery Export Promotion Council (GJEPC), will run through August 13, and attract some 1,500 exhibitors in multiple pavilions, and tens of thousands of professional attendees, from 800 cities and towns across the country and from more than 80 countries.
The CIBJO President was a guest of honour at the opening ceremony, where together with the GJEPC leadership he participated in a traditional candle-lighting ceremony, led by the council's Chairman, Pramod Agarwal.
Addressing the assembled gathering, Cavalieri congratulated the GJEPC for its ongoing work in the development and promotion of the Indian gemstone and jewelry sector, which today is the world's overwhelmingly dominant center for the processing of gemstones and jewelry, and also is its third largest national jewellery consumer market.
It is in particular the growing importance of India's domestic market that is reflected in the emergence of the IIJS August show as a major fixture of the global jewelry sectors annual calendar, he stated. "India has been a critically important player in our industry for decades already, but initially was regarded predominantly as a production centre. Today it is a one of a handful of countries, together with the United States and China, whose presence is felt in all stages of the chain of distribution, both driving and satisfying demand," Dr. Cavalieri said.
"But not only is India important to our industry, our industry is critical to India, contributing about 7 percent of its GDP, about 16 percent of its total merchandise exports, and employing more than 4.64 million workers. With almost 18 percent of the world's population, India is a country that conclusively demonstrates that, while precious gemstones and jewelry may be non-essential luxury items, the jewelry and gemstone industry is an indispensable part of the global economy."