Christie's Geneva to Auction Pink Legacy, Sale Estimate of $30M-$50M
September 27, 18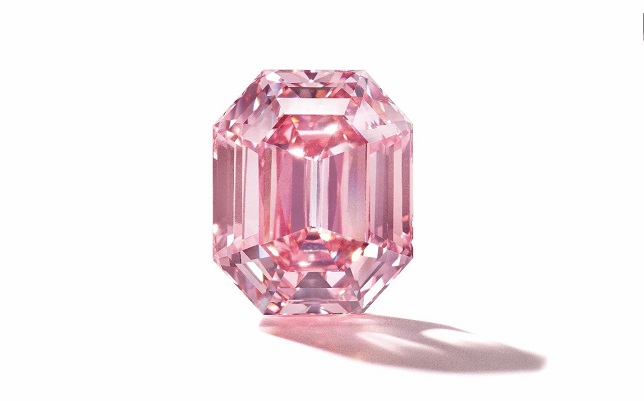 (IDEX Online) – Christie's Geneva will present the pink legacy, the largest and finest fancy vivid pink diamond ever offered at auction by the company, on November 13.
Weighing just under 19 carats (18.96 carats), the exceptional rectangular-cut gem will lead Christie's Magnificent Jewels auction. The pink diamond from the Oppenheimer family has a pre-sale estimate of $30 million to $50 million.
Rahul Kadakia, International Head of Jewellery, commented: "The discovery of this previously unrecorded and remarkable diamond will cause immense excitement with collectors and connoisseurs of diamonds around the world. The Pink Legacy will be exhibited on a global tour prior to being auctioned. Its exceptional provenance will no doubt propel it into a class of its own as one of the world's greatest diamonds."
"The Pink Legacy has been awarded the highest diamond color grading of vivid by the GIA," Christie's added in a statement. "Vivid colored diamonds are the most strongly saturated gems, displaying the optimum hue of the stone. It is a classic rectangular cut diamond, a cut that is traditionally used for white stones, and weighs an extraordinary 18.96 carats when most pink diamonds of this color weigh less than a carat. The Pink Legacy is also internally very pure which is extremely rare in pink diamonds where the color is formed by pressure and slippage of the crystal lattice which typically causes imperfections in the stone.
"In addition, it classifies as a Type IIa diamond, which contains little if any nitrogen and accounts for less than two percent of all gem diamonds. Type IIa stones are some of the most chemically pure diamonds, often with exceptional transparency and brilliance.
"In the saleroom fancy vivid pink diamonds over 10 carats are virtually unheard of and only four vivid pink diamonds of over 10 carats have ever been offered for sale at auction. An historic level was reached in the international diamond market in November 2017 when Christie's Hong Kong sold 'The Pink Promise', an oval-shaped fancy vivid pink diamond of just under 15 carats for $32,480,500 ($2,175,519 per carat), which established, and remains, the world auction record price per carat for any pink diamond."