Danish Retailer Launches First Brand Set With Greenland Rubies And Sapphires
November 19, 18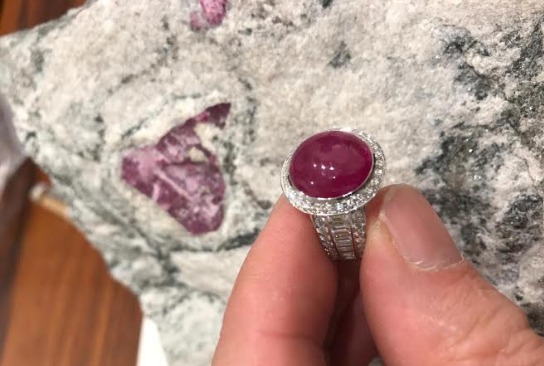 (IDEX Online) – Greenland Ruby, Greenland's only miner of ruby and pink sapphire, has announced that Hartmann's Jewellery, a Danish luxury brand, is introducing a collection of jewels using Greenlandic rubies and pink sapphires.
The Hartmann collection features more than 50 pieces of Greenlandic ruby and pink sapphire jewelry using a total of approximately 300 carats of rubies and pink sapphires. It was designed by Hartmann's design team, and the prices range from $1,500 - $45,000. The collection is currently available in Scandinavia, Greenland Ruby said in a statement.
"Though other designers have worked with our gems, Hartmann's is the first jewelry brand to create an entire collection," said Greenland Ruby VP Sales and Marketing Hayley Henning. "We're especially delighted to welcome a Danish retailer as our first full partner, given Denmark's long relationship with Greenland."
Ulrik Hartmann, founder and owner of Hartmann's, visited Greenland Ruby's Aappaluttoq mine near the southeast coast of Greenland in August, with Danish television cameraman Michel van Steenwijk, to record his visit. Hartmann's campaign to introduce Greenland Ruby's rubies and pink sapphires this fall includes video and still photography of the pristine arctic scenery he experienced on his visit, which he is sharing on his website and social media.
Hartmann traveled to Aappaluttoq by water from Greenland's capital, Nuuk. The four-hour boat journey is only possible in summer, due to Greenland's arctic climate.
"The idea that corundum formed beneath this incredible landscape three billion years ago intrigued me," says Hartmann. "Introducing this new source of ruby and pink sapphire, while also honoring its isolated, rare, and unique setting, will be a pleasure."
Hartmann's is known for its special and deep expertise in natural diamonds – especially colored diamonds. It is one of only three retailers in Europe to carry the title, "Argyle Pink Select Atelier," for its Argyle Pink Diamond Collection, and it hosted the world premiere of the Argyle Pink Diamond Tender in 2016, showcasing some of the rarest diamonds in the world. Hartmann's, a retail member of the Natural Color Diamond Association (NCDIA), is also the sole distributor of Boucheron's luxury branded jewelry and timepieces in Scandinavia.
In addition, Hartmann's plans to focus on the fact that Greenland Ruby gems are mined by adhering to strict ethical, social, human rights, and environmental laws and responsible practices, where local mining and gem sorting work forces enjoy all the protections and working conditions guaranteed by Greenlandic law.
Greenland Ruby gems come with a certificate of origin authorized and issued by the government of Greenland, guaranteeing that the gems are mined in a country that has an excellent human rights record, is environmentally responsible, and boasts a stable government and economy.
Hartmann's Greenlandic rubies and pink sapphires can also be tracked along every step of their journey, from the mine to the store. The brand also supports Greenland Ruby's Pink Polar Bear Foundation, an initiative created to support international polar research in all disciplines, especially protecting the inhabitants (animal and human) of Greenland, who are affected by climate change and accompanying cultural changes.
"Greenland is fast becoming known internationally as a responsible source of gem quality ruby and pink sapphire," said Greenland Ruby's CEO Magnus Kibsgaard. "Our team has spent 2018 meeting with prospective clients, attending gem and jewelry trade shows around the world, and hosting visits like Ulrik's to our mine site in Aappaluttoq."
Greenland Ruby's other hosted mine visits have included journalists for InColor, a publication of the International Colored Gemstone Association; and the magazines Journal of Gemmology and Gems & Jewellery, both produced by the Gemmological Association of Great Britain. Gemologists' visits to Aappaluttoq have included personnel from the Gemological Institute of America (GIA), the Gübelin Gem Lab, and Lotus Gemology.