Mountain Province Raises 30% More at Sale Despite Offering Fewer Fancies/Specials
September 19, 17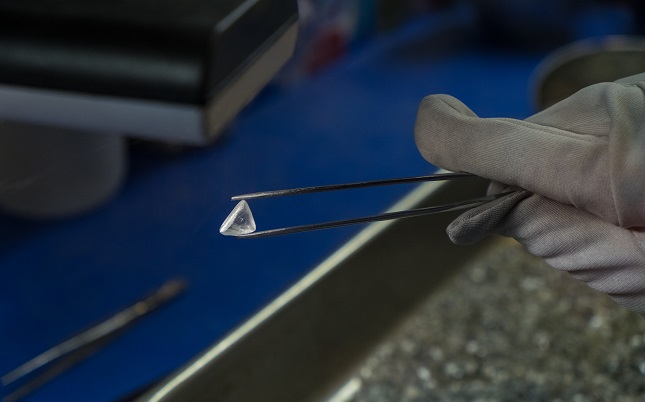 (IDEX Online) – Mountain Province Diamonds Inc. sold 463,000 carats of rough stones for $27.1 million at its latest sale – a 30 percent increase over the previous sale despite offering significantly fewer fancies and specials.
The recently completed seventh diamond sale was the company's largest single sale to date in terms of both total value and carats sold, with carat volume reflecting strong production throughput and grade at the Gahcho Kué mine as well as the opportunity to fast-track just over 85,000 carats of smaller size diamonds into this sale, the miner said in a statement.
The results of the seventh sale, with preceding sale results for comparative context, are summarized as follows:
Production is split between Mountain Province Diamonds and its joint venture partner, De Beers Canada Inc., with the firms bidding for fancies and specials.
"All lots on offer were sold. As previously indicated would be the case, the realized value per carat from this sale was averaged down from the fast-tracked inclusion of just over 85,000 carats of smaller sized goods. As a result of a procedural change by the government of the Northwest Territories to expedite processing of the company's smaller sized goods for royalty valuation purposes, the company is able to bring such diamonds to market sooner than was previously the case.
"A portion of such accelerated goods was included in this seventh sale, and the remainder will be included in subsequent sales. The seventh sale also included significantly fewer fancies and specials than previous sales, further averaging down the realized value per carat as compared to previous sales, as De Beers Canada was the successful bidder for the main component of the fancies and specials associated with this sale assortment. Adjusting to include the fancies and specials at the value paid by De Beers, and to exclude the fast-tracked smaller sized goods, the value realized per carat in the seventh sale was $72, generally consistent with the year-to-date adjusted realized sale value of approximately $75 per carat."
Reid Mackie, the company's Vice President Diamond Marketing, said, "It is encouraging to see Mountain Province's sales process and customer bidding continue to deliver robust levels of competition. Attendance and average bids per lot were consistent with previous sales, and this sale saw our highest level of lots won by return customers. This demonstrates that, in spite of current trading conditions being somewhat challenging, our diamonds are becoming well established in the market and their positive manufacturing results continue to engender customer support."
Mountain Province Diamonds is a 49 percent participant with De Beers Canada in the Gahcho Kué diamond mine located in Canada'sNorthwest Territories. Gahcho Kué is projected to produce an average of 4.5 million carats a year over a 12 year mine life.